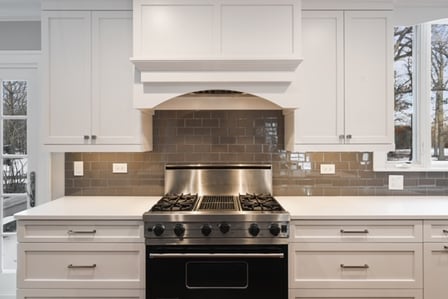 Remember when choosing an oven was more about looks and budget than fancy functions? Today, homeowners have some big decisions to make because oven and stovetop options are prolific.
While conventional ovens are still the norm, more and more homeowners are taking advantage of the features and options offered by steam, convection, induction, and smart features offered by mainstream oven and cook/range top manufactures.
This guide will give you a basic rundown on the oven and stovetop options out there. As always, you're best bet is to meet in person with an experienced Chicago kitchen designer who will customize your options to your household's kitchen needs and use.
Gas or Electric?
That is the question. People typically align strongly with one or the other. From a professional kitchen designer's standpoint:
Gas is typically preferred by those who do more cooktop cooking than oven baking because of the precise heat control (although induction cooktops have turned this theory upside down).
Electric is often preferred by bakers due to its consistent heat.
Your current cost of gas vs. electricity, and whether or not your home utilizes renewable energy, may cause you to lean one way or the other.
If you prefer a modern or contemporary design, with clean lines, you may prefer to use electric with an induction cooktop for a more sleek look. Induction cooktops are also more precise than their electric cooktop countertops. Click Here to read comparisons between induction and electric cooktops.
If you love your cast-iron or current collection of pots and pans, you may not want to replace them all with induction-friendly options.
How Many Ovens Do You Want?
Perhaps the first question to ask is, "do you want one or two ovens?"
The Single-Oven Kitchen
The one oven kitchen is best for:
Homeowners aren't designing a kosher kitchen
Those who don't cook or entertain all that often
Homeowners who currently have a single oven and have only wished you had a double a handful of times over multiple years
Kitchen layouts that struggle to accommodate a double-oven plan
When you suspect a warming drawer us a more ideal alternative to a double-oven
The Double-Oven Kitchen
Your kitchen is served best by a double-oven if you:
Love to cook and host family gatherings
Currently have a single oven and rue the day you didn't opt to install a second
Have kitchen that's large enough
Design a layout that accommodates both ovens and functional kitchen flow
The good news is that the combination of high-tech oven functions and drawer options allow most households to find the perfect balance of one- or two-, without having to sacrifice.
Quick Facts About Convection Ovens
Convection ovens are favorites for both cooks and bakers alike due to their quick cooking/backing time, consistency, and perfect browning functions.
"Forced-Air Oven" would be a better title for these ovens because the term "convection" means that heat is circulating around a space. Therefore, even an outdated standard oven from the 1960s or 70s is technically a "convection oven."
What makes "real" convection ovens different is that they have a fan circulating the heat evenly throughout the oven space. That forced-air circulation maintains even heat throughout the oven cavity (no hotter or colder pockets), which causes foods to cook or bake faster.
In addition to quicker and more even cooking, convection ovens are also lauded for their:
Ability to cook more than one thing at a time (a convection oven may eliminate the need for a double-oven plan)
Desirable, even browning without diminishing moisture
Read, Why a Convection Oven, for more information about these popular kitchen appliances.
What About Steam Ovens?
Just as everyone was getting on board with the upgraded and attractive features offered by convection ovens, manufacturers started promoting steam ovens. Like convection ovens, steam ovens tend to cook food quicker than conventional options.
Steam ovens work using moist heat, and there are some advantages to that:
Moister food (ideal for people who cook predominantly plant-based diets), although meat lovers enjoy juicier meat, too.
They're great for delicate pastries and baked goods
The steam minimizes the need for oils or butter in pans, which is good for those with medically restricted diets or who prefer low-fat/low-cholesterol options
They're easier to clean (no more baked-hard gunk)
The good news is that many popular oven manufacturers offer steam ovens a well as convection features. You can glean all of the steam oven's moist, easy-clean, and healthier cooking benefits while still enjoying browning features when you want them.
Read our post, Why a Steam Oven, to learn more about the pros and cons of steam ovens.
Time to Choose Your Cooktop Or Range
That brings us to the cooktop and range options. We've already mentioned electric and induction cooktop options. If you're less familiar with induction cooktops but are intrigued by their popularity, visit our post covering the pros and cons of induction cooktops.
Gas ranges are the other option, and commercial-worthy, large ranges are all the rage these days (think Wolf or Aga). Not sure what the difference is between a cooktop and a range? Click Here.
Don't Forget About Oven and Cooktop Extras
Your kitchen designer is a primary resource for all things oven, range, and cooktop oriented. However, it's nice to familiarize yourself with additional information, which gives you a more well-rounded consultation conversation.
Additional items to consider:
Ready to get firm, confident, and personalized answers to these important questions about your Chicago kitchen's oven, cooktops, and other appliances? Contact the design and build team here at Kitchen & Baths Unlimited. We have decades of experience designing high-end, functional kitchens that are personalized to our clients' needs.