First and foremost, the most popular kitchen design layout for your Chicago kitchen remodel is one that optimizes efficiency. There's a fine line between not enough space - and too much space. The goal is to make your kitchen footprint as functional as possible
Yes, contrary to popular belief, a poorly designed, large kitchen results in too much walking or moving from one area to another while preparing meals, whereas a too-small kitchen means not enough room to prepare meals comfortable or with the help of additional sous chefs.
Top 5 Chicago Kitchen Design Layouts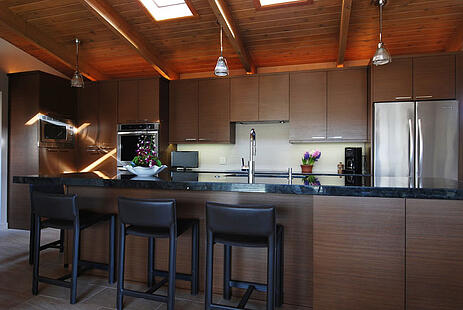 So, the most popular kitchen design layout should always be one that makes the kitchen as functional as possible. From there, it's really a matter of personal preference.
That being said, we spend our lives remodeling kitchens in the Chicagoland area, so our finger is always on the pulse of current trends. Keeping that in mind, here are the 5 most popular kitchen layouts.
1. The one-wall kitchen
The one-wall kitchen is the star of the open concept floor plan. They keep it all out there for admiration, from beautiful banks of cabinet doors, to an ample kitchen island. One-wall kitchen layouts work well in both large and small homes, with smaller homes and loft spaces benefiting from optimized usable space. They also eliminate corner pockets, which can become wasted space traps.
With a one-wall kitchen design, you're going to want an island of some sort, and odds are you'll place the sink or the oven/stove top there to create a functional work triangle.
2. The galley kitchen
While galley kitchens were pushed off as being "old school" for a while, they're making a comeback. Open kitchen fans eschew their closed-off, anti-social characteristics, but many serial entertainers swear by galley kitchens because they prevent the need for constant cleaning and putting away during gatherings, family meals, or parties. If you have the space, a butler's pantry is the ideal compliment to the galley kitchen design.
3. L-shaped kitchen
This kitchen is often considered the "Queen of Efficiency" because the natural corner pocket of the L, combined with a kitchen island, lends itself to a natural kitchen triangle flow. If you have a smaller kitchen and love the look of an L-Shaped kitchen, we recommend considering a freestanding island, offering more versatility and open space when needed.
4. U-shaped kitchen
A close second in popularity to the L-shaped layout, the U-shaped kitchen ups the ante by adding a third space for cabinets and counters. If you are torn about whether or not to install a kitchen island, the U-shaped kitchen is a great solution because one of the sides can become a peninsula, offering the best of both worlds.
5. The G-shaped kitchen
There are two ways to complete a G-shaped kitchen. The first version uses three full walls and a partial fourth, while the most common version is a deconstructed G, such as this one from our Kitchen Design Portfolio. It maximizes countertop space, helpful for bakers or families who need separate zones for coffee/breakfast stations, homework, etc. A G-shaped kitchen is best suited for those with a larger kitchen footprint, although it can be done by removing all or part of a wall and/or swapping upper-cabinets for open shelving to open up the space.
Trying to figure out which popular kitchen design layout is best suited for your Chicago kitchen remodel? Contact us here at Kitchens & Baths Unlimited to schedule a consultation with career kitchen designers who prioritize high-end, functional design combined with personalized touches.