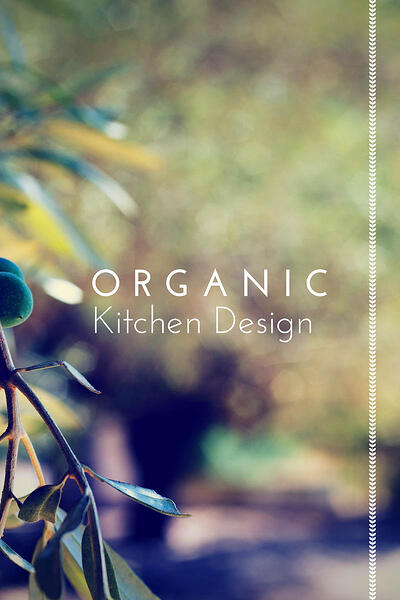 We see the word Organic splashed around every which way these days. It makes sense for food products, but what does it mean in the world of design? For example, what does the term "Organic Kitchen Design" really mean? Certainly the products aren't Certified Organic, so where do organic design principles start and stop?
There is not concrete answer to these questions, the level of green design you want to pursue is dependent on your values and commitment. All we can do is tell you what organic kitchen design means for us here at Kitchens and Baths Unlimited, and how we work with clients who have expressed an interest in sustainable or eco-friendly design principles and products.
What the Heck is Organic Kitchen Design, Anyway?
An organic design is one that strives to minimize the resources used to manufacture products, while simultaneously yielding finished designs that are less harmful to our environment and air quality as a whole. Your kitchen should be so well-designed and constructed that it requires a minimal amount of maintenance and upkeep in order to keep it aesthetically pleasing and functional year after year.
Here are examples of the products and finishes we use when clients express an interest in an organic or sustainable kitchen design:
Flooring. In some cases, the greenest choice is keeping the flooring you already have. This diminishes the need at the production end and it will save you money too. Refinishing your hardwood flooring using low-VOC finishes is often all that's required. Otherwise, choose products that are renewable and/or reduce off-gasing such as FSC-certified pre-finished solid and engineered hardwood floors, Marmoleum (natural linoleum), bamboo, cork, recycled rubber tiles, recycled porcelain or glass tile or stained concrete floors.
Countertops. There are plenty of green options for your countertops too. While granite is long-lasting, it still requires the extraction of beautiful stone from the earth. Products like Quartz or recycled glass countertops use a tremendous amount of pre- and post-consumer recycled products and are incredibly durable. Poured concrete countertops are also sustainable and allow you to get creative with the shape and finishes.
Cabinets. If you are interested in sustainable kitchen designs, ask us about cabinet products that are certified by the Forest Stewardship Council and/or Greenguard Environmental Institute. Certification by the former indicates the wood was harvested using sustainable forestry practices. The latter means the cabinets meet strict chemical and particulate emissions standards. We can also finish your cabinets with low- to no-VOC finishes.
Appliances. Here, you are really looking for the appliances that can do the highest-volume of work using the least amount of electricity, gas and/or water. Obviously, if you have solar panels or other renewable energy sources, your electricity consumption may be less of an issue. However, most of our clients with renewable energy still opt for eco-friendly appliances.
You will pay a little extra to design an organic kitchen, but that money will be recouped in terms of energy savings, indoor air-quality and increased home value.
Contact Kitchens & Baths Unlimited to start a conversation about the green design principles that can guide your North Shore, Chicago kitchen remodel.