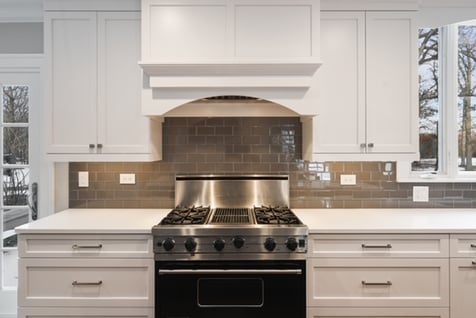 Avid cooks may get super excited about the opportunity to purchase a new Wolf range or that top-tier convection oven. However, most clients aren't as excited because appliances typically fall into the "middle priority" range of kitchen design selections; they aren't as exciting or showy as cabinets, countertops, and new paint colors.
Even so, it's worth choosing wisely when it's time to choose appliances for your Chicago kitchen remodel. These are the workhorses that will help you get dinner on the table, let you know when you're running low on milk, or keep food warm for the late-arrivals in the family. Plus, you want appliances that enhance your kitchen aesthetic.
Checklist for Choosing Appliances
High-quality, well-maintained appliances can and do last a lifetime. So, keep that in mind as you sort through your options. The ideal would be to select appliances that might not need replacing, even if you decide to update your kitchen again down the line.
Here are some expert tips from Chicago kitchen remodelers to help get you started:
1. Select your kitchen layout first
There is certainly an order of things in the world of kitchen design, and appliance selections are partially guided by your kitchen layout. Make sure that's been solidified so your kitchen design-build team can walk you through the best options for what goes where. This way, doors will open in the right direction and without impeding your kitchen workflow.
2. Go for well-established brands
In an effort to corner the budget-savvy market, there are all kinds of gimmicks and knock-offs that look as if they have what you want, but will not stand the test of time nearly as well as their well-established brand counterparts.
It's worth going with kitchen appliance brands that are respected to get the warranties, energy efficiency, and long-term lifetime you're looking for.
3. Take your kitchen design into consideration
Your kitchen design may have an impact on appliance selection – or whether you choose to integrate them. For example, a sub-zero fridge may look great in a contemporary or minimalist kitchen design as-is, but a traditionalist may prefer to integrate them so its details match the rest of the kitchen. Similarly, those who like a retro- or classic look, may want to use appliances to augment their design with brands such as Big Chill.
4. Research appliance genres and options
The world of appliances has gotten more complicated as the result of enhanced innovation and technology. There's almost no such thing as "basic" appliances anymore. Here are some articles that will help you as you sort through what's what in terms of ovens, ranges, microwaves, appliance drawers, and so on.
Reading these articles, and researching additional online resources, will help you frame the right questions and ideas for your kitchen remodeling team.
5. Don't forget about appliance drawer options
For some, appliance drawer options are a complete waste of space and money. Others find them to be the end-all-be-all of a functional kitchen. The goal is to establish your day-to-day kitchen habits and needs and tally up all the specialty events hosted in your kitchen – determining whether drawers or extra storage are more worth your time and investment.
Learn more about appliance drawer options by reading:
Now's the time to establish which – if any – of these handy appliance drawers are ideal for your Chicago kitchen design so they're placed in the layout with daily use and workflow in mind.
Contact Kitchens & Baths Unlimited to learn more about which appliances are the best suited to your kitchen use, design, and layout.