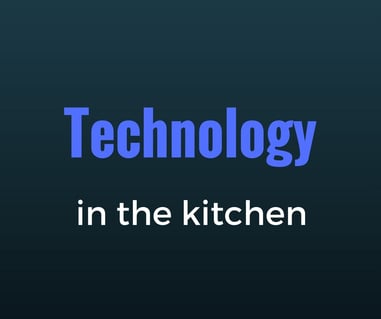 Kitchens have always been a hub of technological innovation in the home. Imagine what it was like to make the transition from hand-pumping well water to turning on a faucet, for example. Or from having to stoke a wood fire to turning on a gas or electric burner. These innovations are old hat now, but they revolutionized the way kitchens functioned for their homeowners.
Ideas for Incorporating Technology in Your Chicago Kitchen Design
Similar "revolutions" continue in the form of modern technological innovations designed to make life easier. In the 21st century, some of these technologies are pricey, others aren't at all.
The following are a list of some of the techy products our own KBU homeowners have found the most worthwhile in terms of form, function and price, in their Chicago kitchen designs.
Smart Appliances
Just about every appliance on the market has the ability to be "smart" these days. You can go all out, or you can simply choose the smart appliances that make the most sense for your household. Have a bunch of hungry teenagers on the loose? A smart fridge like as the Samsung Family Hub is a good idea so you never run out of milk and other must-have snack foods. Wish you could cook dinner within a shorter time frame? Perhaps a smart convection oven will do the trick. Another example is Amazon's Alexa, which has partnered with GE, allowing your kitchen to be increasingly automated. They key is to implement technology where it makes the most sense, and not simply for technology's sake.
The lighting design
Kitchen lighting designs have come a long way in the past several decades as the result of technological advancements. From highly-efficent LED options to under-cabinet, in-cabinet and toe kick lights, your kitchen will benefit from ambiance, safety and artistry. Using Alexa or the right home security system allows you to control lighting systems remotely or via sensors and timers.
Whisper quiet doors and drawers
The kitchen can be a noisy place, and slamming doors and drawers don't help. We recommend adding whisper quiet doors and drawers to your cabinet design. Even if you carelessly (or intentionally) slam a door, the whisper quiet technology takes over, ensuring it closes quietly and gently. In addition to enhancing kitchen acoustics, these hinge systems save the life of the cabinetry.
Touch-free faucets
The decision to go from traditional to touch-free faucets has multiple benefits. In terms of sanitation, they keep the faucet from becoming a bacteria breeding ground (cutting up raw chicken? Just turn on the faucet with your forearm and the faucet remains goo-free). In terms of accessibility, they make sure that children, seniors and anyone with grip problems can turn on the water without issue. Finally, in terms of water conservation, touch-free faucets eliminate the problem of a faucet that doesn't get turned all the way off.
Gadget accommodations
Gadgets are here to stay, but we'd prefer the associated countertop and cord clutter did not. Consider adding a small message center or home office into the mix, where gadgets can be stored, charged and used without migrating into the main kitchen areas. Gadget charging drawers are another way to hide clutter and protect gadgets. If you use your touch pad to access recipes or watch your favorite program during food prep, install an under-cabinet holder or two to keep the tablet free from splatter, moisture or spills.
Interested in a Chicago kitchen design that integrates sensible technology with style? Schedule a consultation here at Kitchens & Baths Unlimited.