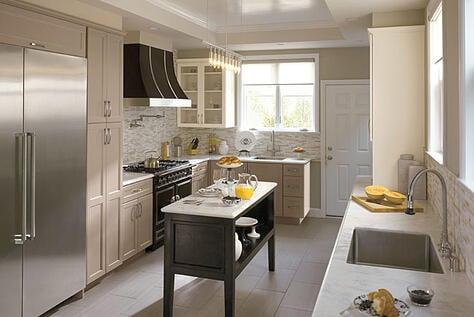 Before you bemoan your lack of kitchen square footage, know that even the smallest of kitchens can seem spacious if they're designed well. You'll be amazed at how much conceptual space - and bona-fide storage space - is gained with a few simple design tricks.
If you can't knock out a wall for your upcoming Chicago kitchen design, check out the following ideas for making the most of what you have.
8 Tricks For a More Spacious Chicago Kitchen Design
Lots of natural light. If we could build every kitchen with a glass ceiling, we just might. It's amazing what natural light can do to make a room feel bigger and brighter. CFL and LED lights have come a long way but nothing beats sunshine. Add natural light wherever you can via extra windows, expanded windows, skylights and solar tubes.


Mirror backsplashes. Mirrors are one of the oldest design tricks in the book when it comes to creating the illusion of space. You can take advantage of it via a mirrored backsplash - or a backsplash that incorporates reflective elements - which creates the illusion of more depth.


Open shelving. Cabinets take up a lot of space, and their doors close that space off from the naked eye. Use cabinets where you must, but then take advantage of open shelving. This creates a clean, streamlined look, maintains the depth that exists between the wall and the shelf-ends and can also add color depending on what you store there.


Glass fronts on doors. If open shelving seems a bit too casual for you, a

dd glass door fronts

to some of your cabinets. You will still have a more formal look created by the cabinets and their door frames, but the glass panels allow you to see into the cabinet boxes, creating a similar sense of depth we described with open shelving. If cabinets are above a peninsula, make the doors glass on both sides so both light and the gaze can pass through.


White and/or lighter colors. This tip goes along with the idea of plenty of natural light. "Light, bright and airy" are adjectives associated with bigger spaces, and white/ lighter colored spaces lend the same feel. A small kitchen space, combined with darker colors/finishes, will have a cave-like or gloomy effect.


Remove the soffits. Those soffits may not be as important as you think but they can eat up a tremendous amount of space. Have your kitchen designer determine which ones are necessary and get rid of the rest.


High lacquer finish. A high lacquer finish provides a shiny and reflective surface, and a reflective surface creates more depth.


Clean lines. Traditional kitchens tend to have more "little extras" when it comes to ornate designs and artistic details. They are beautiful but can make a space feel more cluttered. A contemporary kitchen design with clean lines will give the impression of more space.
Want a kitchen design professional to bounce your Chicago kitchen design ideas off of? Visit us at Kitchens & Baths Unlimited.