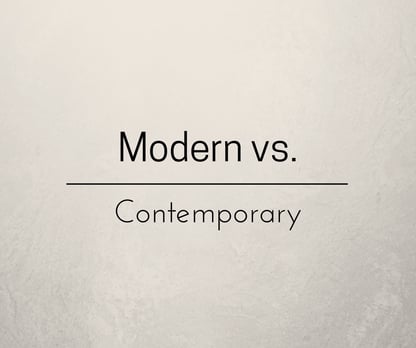 We tend to cringe when we see the terms modern and contemporary used interchangeably. Unfortunately, this occurs quite often.
They are not the same thing – and it's important to learn the difference as you plan your Chicago kitchen and bath design.
Modern vs contemporary interior design
Question 1: Victorian, Gothic, colonial and modern; what do those design terms all have in common?
Answer: They're all specific periods in architectural design.
Question 2: What is modern design?
Answer: Modern design refers to a period of architectural design that ran from the 1920s through the 1950s and continued to influence design and fashion into the early part of the 1960s.
This article on Houzz.com is a fantastic place to get an idea of what mid-century modern interior design looks like. This specific style originated in Europe – and was all about minimalism, sleek lines, and functionality. Decoration without function was considered superfluous.
Contemporary, on the other hand, is a timeless term meaning, "of the current time period." During the 1950s, modern design was contemporary. Now, however, it's a part of design history. That being said, some elements of modern design have continued into 21st century, contemporary design styles – and this is where things get confusing.
What does this mean for your Chicago kitchen and bath design?
In terms of an upcoming kitchen and/or bathroom design, this means the world is your design oyster.
For example, you can design a kitchen that has traditional farmhouse features – white cabinetry, a farmhouse sink and butcher block counter or island tops. At the same time, it can embody contemporary motifs via cleaner lines, less furniture-like decoration and high-end appliances.
A kitchen focused on modern design elements will be very sleek. It might have retro bar seats and accents may include retro color schemes – like orange, olive green or yellow. In fact, certain appliance lines are capitalizing on modern-design echoes by creating retro-styled appliances with contemporary efficiency and features. In the current moment, kitchen designs are a mix of modern and traditional design elements– along with contemporary appliances and technological innovation.
The same ideas hold true for bathroom designs. A modern bathroom design is clean, streamlined and adornment free – think slab cabinet doors, linear handles and pulls, and sleek plumbing features. While wood elements may be implemented, you're more likely to see an emphasis on glass, metal or smooth stone. On the flip side, a traditional bathroom might include furniture-like details, a clawfoot soak tub, and emphasis on wood and traditional lighting fixtures – but countertops might be quartz and contemporary, frameless glass shower doors might show off decorative tile work.
Not sure whether you want a kitchen that is more modern or contemporary? Start collecting your favorite pictures from design websites and/or magazines. Houzz is a good place to start. If you're compiling a list of prospective Chicago kitchen and bath designers, make it a point to visit their online galleries and note which ones catch your eye.
As you begin meeting with professionals, they'll help discern whether you're more of a modernist, traditionalist or transitionalist – and will recommend contemporary design options that make the most sense for your household, tastes and lifestyle.