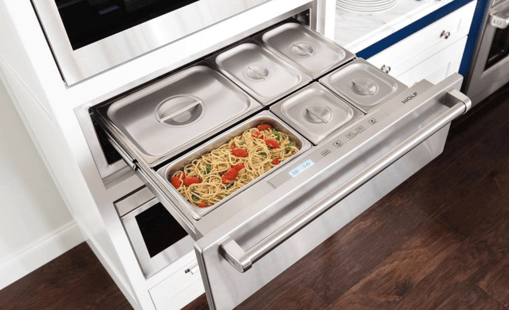 Appliance drawers, including warming drawers, can add tremendous benefit in a Chicago kitchen remodel. At the same time, the best kitchen design is one that prioritizes functional efficiency – meaning no wasted space. In addition to wasted money, installing warming drawers could use valuable cabinet and storage space that is better tailored to your household's everyday kitchen use.
You will love your warming drawer if…
To that end, we're listing some of the pros and cons to help you weigh whether warming drawers would be a useful addition or a "good idea in theory" that you rarely use.
You enjoy entertaining on a regular basis
Warming drawers keep food at your desired temperature for hours. If you love to entertain, this is a major bonus because you can start food prep long before the guests arrive and time your appetizers, sides and mains accordingly.
They also feel like lifesavers when yours is the house everyone spills into for Thanksgiving, holiday parties, televised sporting events, and so on.
Your spouse or kids come home late
Because they're smaller, warming drawers are more efficient than keeping food warm in a full oven, and they maintain desired food consistency better than re-heating something in the microwave does. They have features to ensure chicken skin remains crisp and baked goods remain moist. Thus, kids and spouses who frequently come home after the rest of the family eats dinner will appreciate enjoying a meal that is just as good as when it came out of the oven or off the stove.
You love to bake – especially breads
Most bakers use warming drawers regularly to allow dough to rise and to keep fresh baked rolls or pastries warm for the next meal or dessert.
You love pre-warmed plates
Once you get in the habit of warming plates and bowls before dinner, you may wonder how you lived without it. There's no doubt this professional chef/restaurant trick keeps food warmer from the time it's plated and through the meal.
You're better off skipping the warming drawer option if…
You have a smaller kitchen
If you have a small kitchen, and none of the above "pros" are a major factor for you, skip the warming drawer and put the space to better use.
You're designing on a tight budget
We consider warming drawers worth splurging on if there's room in the kitchen design budget. The extra expense isn't really worth it as you can use your oven or microwave instead. If, however, the warming drawer features really call to you, speak to your kitchen designer about oven or microwave options that accomplish the same goals without having to invest in an additional appliance.
You only host parties or gatherings a few times a year
Most people who use warming drawers regularly are the same people who cook meals all the time and entertain pretty consistently. If your family typically sits down together at the table, without the "on-the-go" lifestyle, and you don't really care about warmed plates – you can get creative for the few times a year you host people – using chafing dishes, crock pots, etc. to keep foods warm.
Ultimately, the warming drawer wasn't designed to house cookie sheets or as an overflow storage for rarely-used cookware. A single consultation with a professional kitchen designer will help you establish whether one makes sense for your kitchen, or whether it would be a waste of money and space.
Want to discuss the pros and cons of a warming drawer in your Chicago kitchen remodel? Contact Kitchens & Baths Unlimited.
Photo credit: SubZero-Wolf.com