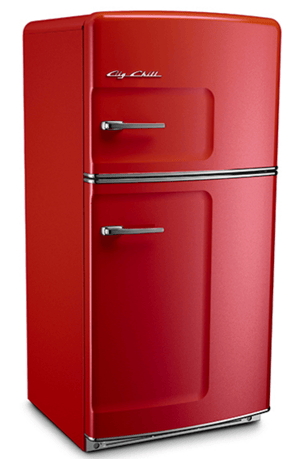 You love the idea of high-end appliances - your family cooks all the time. The problem? All that stainless steel and straight-edge boxiness simply doesn't work for the unique aesthetic you want to create in your Chicago kitchen remodeling project.
Then, one day, while enjoying a cup of coffee with a life-wise neighbor across the street, you admire her meticulously cared for, original vintage oven and stove top. If only you could get something just like that - along with a little more energy efficiency - for your remodel.
Now, you can!
Big Chill Appliances - Attractive Retro Lines Paired With Contemporary Efficiency
Enter appliance manufacturers such as Big Chill, that make vintage and retro-looking appliances with exceedingly modern interiors, features and functions. Big Chill offers three different appliance lines, all with their own take on a more retro look.
Another bonus? They've sized their appliances for any kitchen, so while their Pro Line is sized for the large U-Shaped or L-Shaped kitchen, their Slim and Studio sizes are perfect for smaller kitchens or your upcoming basement renovation. It's hard to pick a favorite. We also love the fact that Big Chill appliances are made right here in the USA - Pennsylvania, to be exact.
Here are a few examples of their three different styles. Could these appliances be the way to add a little extra pizzazz to your kitchen design?
The Retro Line
Here's the Retro Stove you admired at our neighbors house. Only you can get the same look with professional cooking appeal. Construction is stainless steel with authentic chrome trim and it comes in nine different colors - some are playful and there's always black and white.
The stove includes a convection fan, oven burner ratings of 30,000 BTU (don't worry - it comes in electric and induction cooktop options as well), and it fits full-size baking sheets on full-extension oven racks.
The Big Chill's fridge looks like it walked off the set of Leave it to Beaver, only better - because it's in color. The fridge has the Energy Star stamp of approval and, like the oven/stove - it comes in nine basic colors with more than 200 custom color options.
The Pro Line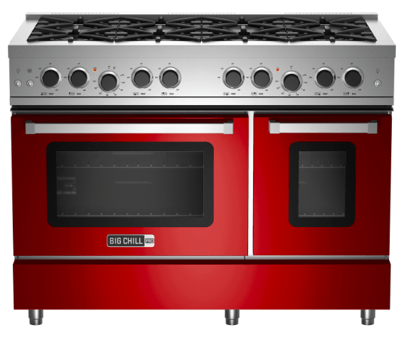 If you're a fan of Wolf, you'll love the Big Chill Pro Line. Again, all the appliances in this line are designed, assembled and shipped from U.S. factories, making it easy to remain committed to the "buy local" mantra.
The stovetop/oven boasts up to 99,000 total BTU and 45,000 BTU oven strength - including a full, 48-inch gas range with convection baking options. The Pro line includes the full appliance spectrum - fridges, ranges, hoods and dishwashers.
The Classic Line
Big Chill describes their Classic Line as, "A vanguard in industrial chic appliances," and we'd have to agree. They have all the strong lines of our industrial favorites, but their given a little more personality via rich, velvety color options and rustic metal accents, like brushed brass and copper.
Interested in adding an unique or retro look in your Chicago kitchen remodeling project? Come on in to the Kitchen & Baths Unlimited showroom. We'll show you unique kitchen designs from our own portfolio and introduce you to product lines and options you haven't seen before.