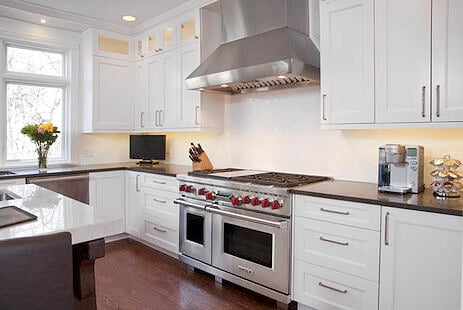 Maintaining a functional kosher kitchen requires forward-thinking and planning. Not only will you require specific storage needs, you also want to do all you can to prevent cross-contamination between dairy and meat products.
Guidelines for a Kosher Kitchen Design
The basic guidelines for designing a kosher kitchen are:
Planning enough cabinet space to house separate dishware, cookware, and utensils
Purchasing dishware and utensils that are easily identified for meat/dairy
Making space for kosher kitchen linens
Using double ovens, microwaves, and other appliances to minimize contamination
Understanding which materials are best for a kosher kitchen (i.e. porcelain is out, and stainless steel is in!)
Ultimately, your Chicago kosher kitchen design process will flow much more smoothly and stress-free by working with a local, North Shore design-build team who knows the ins-and-outs of kosher kitchens.


6 Design Tips for Kosher Kitchens
Here are six design tips that can help guide your kosher kitchen design process.
1. Work with an experienced kosher kitchen design and build team
We can't emphasize enough the importance of working with a kitchen design and build team that has experience designing kosher kitchens. If a member of their staff is Jewish, even better, ensuring that the tenets of the kosher culture are respected and upheld throughout the process.
Only designers experienced in kosher kitchens will understand the ins-and-outs of specific kosher appliance options, the need for surfaces that are sanitary and least likely to contribute to cross-contamination, and the important storage requirements for kosher dish-, cooking-, and bake-ware.
2. Find every opportunity to create more space in your kitchen
Kosher kitchens require more storage space because they typically house an additional 50% (or more) of dishes, flatware, cookware, etc. Unless you already have a generous kitchen footprint, we'll look for every opportunity to create more space in your kitchen.
Customizing cabinet layout and storage, removing soffits, adding open shelving, are all ways we can ensure there's a place for everything and everything in its place - as well as room to comfortably navigate your kitchen space.
3. Take advantage of cabinet design and storage
Using a custom kitchen layout and cabinet design, we can make it easy to keep track of your kosher dishes. Today's cabinets come with extremely customized cabinet inserts, which means even a homeowner with a small kitchen can honor their kosher practice while enjoying a stylish kitchen design. Labeling cabinets as chalav (dairy) and basar (meat) is also essential.
Visit, How to Identify Quality Cabinets…, to learn more about selecting the perfect cabinets for your kitchen.
4. Pay special attention to kosher appliances
There are appliances specifically designed for kosher homes, and then there are appliances that inherently contain features that meet the needs of a kosher kitchen. Your kitchen designer can work with you to choose the kitchen appliances that make the most sense for your kitchen space and needs.
Companies such as Fisher & Paykel intentionally design and manufacture Kosher appliances, so they're a good place to start your search. However, high-end conventional appliance manufacturers offer Sabbath Mode features as well as appliances with designs that are congruent with kosher practices.
Examples include:
5. Conscientious materials selection
The materials used in your kitchen enhance its ability to uphold kosher requirements. Metal and stainless steel are the most obvious options. Corian (due to its ability to be sanded if contaminated) is also an favorite in Kosher homes.
The Kosher community has varying opinions of Quartz and granite countertops. In terms of remaining sanitary, and easily sanitized if contaminated, non-porous surfaces like Quartz are growing more popular in high-end, Jewish kitchen design. Just look for Kosher-certified options to make sure your countertops fit the bill.
6. All of the Kosher kitchen essentials
Once the nuts and bolts of your kitchen design are in place, and your new kitchen is built, it's time to address all of the kitchen essentials.
We recommend selecting different colors and/or patterns for dishware, cookware, and flatware to make it easier to keep things Kosher. An added bonus is that complementary colors lead to a more attractive kitchen design. Using glass dishware and even pots/pans that withstand baking and stovetop functions is helpful because they are the easiest to kasher and can be used for Pesach.
Kosher kitchens require separate linens, also requiring designated storage space. Keep flatware streamlined to prevent build up of food debris in crevices or ridges, and consider purchasing "meat" and "dairy" dog tags at your local Kosher grocery store to attach to the handles of pots and pans.
The team here at Kitchens & Baths Unlimited are Kosher kitchen design professionals who work with clients from the initial design concept to the full-fledged build-out. Contact us to schedule a consultation, or give us a call at 847-729-1212 to speak with us directly.