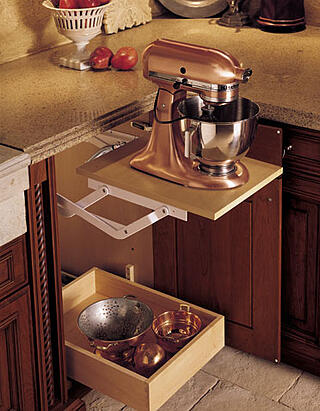 You may be surprised to find the first thing your Chicago kitchen remodeling contractor wants to discuss at length is the How of how you use your kitchen – rather than which countertops, cabinets or fixtures you're interested in. This is because the best kitchen designs focus on function first and then form.
In some cases, this functional piece of the puzzle is huge – and that's true for those of you who love to bake. If you bake on a regular basis, design a baker's kitchen, one that accommodates your workflow as you transition from day-to-day baking and cooking tasks.
Design a Baker's Kitchen
Here are some of the ways your Chicago kitchen design can accommodate your passion for baking delectable treats , along with your household's everyday kitchen needs.
Select the most functional layout
Layout is everything when it comes to kitchen efficiency. The wrong layout has you taking extra steps, lacking accessible storage and unable to find the countertop space you need – where and when you need it. Your kitchen designer will help you determine which kitchen layout makes the most sense for the way you tend to move in the kitchen. Most bakers prefer U-Shaped or L-shaped kitchens that accommodate a generous island and ample room for moving around.
Don't have enough space? You might want to consider forgoing the formal dining room to find extra square footage for a larger kitchen island, a walk-in pantry, two sink locations, etc.
Choose the best place for your marble…or baker-friendly countertop selection
Unlike the bulk of marble lovers, who have to deliberate whether or not marble is really the best choice for their kitchen, bakers can use the excuse that they need marble for their trade. While we don't always advocate a full spread of marble countertops in the kitchen, due to their soft, porous, stainable and scratchable nature, we do recommend bakers identify the best rolling and kneading spot, and select a marble slab for that spot, choosing a surface that handles wear and tear for the rest of the countertop spaces.
Not particularly fond of marble? Granite, quartz and butcher block slabs are also a baker's best friend when it comes to work-friendly surfaces, with quartz being the most durable and maintenance-free of the bunch.
Extra Tip: Countertop heights should be customized to your height – and others' heights if you have helpers from time to time. Adjusting the countertops an inch or two (or more) in either direction will save your back, shoulders and neck.
Work in open shelving
The less you have to open, shut, reach for or grab with doughy hands the better – and that's where open shelving and customized storage come into play. By keeping the most accessed countertop appliances, ingredients, backing pans, mixing spoons, etc. in accessible locations the more efficient you'll be. Open shelving is also easier to clean and maintain in the long haul.
Choose the best appliances for the job
We're not into upselling extra appliances for standard kitchen users. However, those who bake and/or cook at a higher-than-average basis deserve to invest in the right appliances to keep things moving - or baking. For cooks, that often entails convection or steam ovens with convection features, double ovens and refrigerators with freezers that accommodate baking sheets. Undercounter warming drawers or refrigerator/freezer drawers are also bonuses for those who require storage and prep overflow.
The team at Kitchens and Baths Unlimited have designed hundreds of kitchens, many of which are customized to meet the needs of both amateur and professional bakers. Contact us to schedule a consultation so we can get started on your Chicago kitchen remodel.