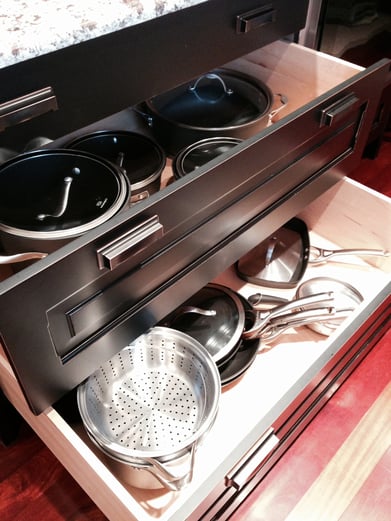 One of the most important decisions you'll make when designing your Chicago kitchen remodel is where to put everything. Kitchen storage makes or breaks a kitchen's functionality. If things are stored too high or too low, too far back or in too-small cupboards or too-small drawers, you'll wind up feeling continuously frustrated.
Some of the most cumbersome items to store are your pots and pans. They vary in size, are heavy and varying handle-lengths make them unwieldy. Then there are all the different sized lids to contend with. While pull-out cabinet shelves are one solution, we find that many of our customers prefer pot drawers instead.
The Benefits of Pot Drawers for Your Chicago Kitchen Remodel
In photos, hanging pots and pans have a nice, rustic or farmhouse look. In reality, it takes pretty big kitchen space to make that work. In the wrong kitchen, or with a more mix-and-match collection of pots and pans, it looks cluttered pretty quickly.
In an era where clutter-free and more streamlined kitchen designs are the trend, most homeowners prefer tucking pots and pans out of sight when not in use. The pot drawer option is perfect for this.
The key is to make sure your drawers are large enough to accommodate your collection of cookware, without stacking the pots and pans. If you have to spend time un-stacking layers of pans to access the one you want, then the drawers weren't designed to accommodate your needs.
Some of the benefits of designing drawer storage for pots and pans include:
One less step. If you use pull-out shelves, you still have a cabinet door to contend with and, in most cases, you have to open both doors in order to pull out the whole shelf, especially for larger pots, pans and/or servingware. By using drawers, this cumbersome step is eliminated.


Keep them contained. Depending on who's putting the dishes away, you can wind up pulling out a shelf, only to have a stack of pots or a heavy pan drop onto your kitchen flooring, your toes, a small child or pet. The deep drawer sides help to keep the cookware contained.


Lid organization. When you design the cookware drawers correctly, leaving ample room for your collection, you can finally store each of the pots and pans with their intended lid, or you can include a small lip in the back that keeps the lids in place, propped up and visible.
If you cook on a regular basis, we can't emphasize enough how important it is to fully accommodate your collection. If you have more than a double layer of pans - a single layer is optimal - you significantly lose the functional benefits of a drawer-based organization system.
The best kitchens are those that accommodate the accoutrement you currently use, the pieces you plan to acquire and the way your household uses the kitchen on a daily basis. Contact Kitchens & Baths Unlimited to design a Chicago kitchen remodel that does all that and more.