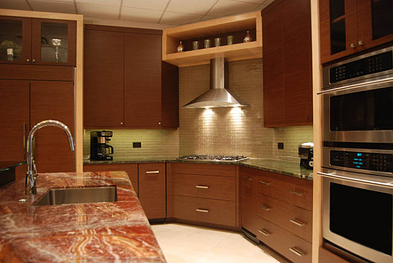 From the technical perspective, there are two types of ranges: ducted and non-ducted.From the design perspective, there is a practically infinite array of kitchen range hoods to choose from when you're making your wish list for a Chicago kitchen remodel.

Here are some of the things to consider when selecting a range that is right for your design.
Should you opt for ducted or non?
Okay, so let's get the technical part over with first. It is important to decide whether or not you want a ducted range hood.
Ducted: A ducted range hood is connected to the exterior of your home via a duct system and exterior vent. When the fan sucks up the steam, smoke and hot air, it is literally vented through the ducts and outside.
Non-ducted: A non-ducted range hood is usually attached to the cabinetry above the stove, and it uses a fan to recirculate the air after blowing it through a charcoal filter. If you live in a condominium or town home, this may be your only option.
If it's at all possible, we recommend installing a ducted range hood as good ventilation is a key to healthy indoor air quality. Otherwise, invest in a high-quality non-ducted range hood to benefit from better filtration features.
Pay attention to the CFMs.
A hood's CFM is a measurement of the amount of cubic feet of air it moves in a minute. Obviously the higher the CFM, the more efficient the hood. However, higher CFMs can also indicate the unit will be much louder. Make sure you are able to hear a sample unit so you can determine the best balance of CFMs to the operating noise level. Higher-end units are usually quieter.
What's your basic hood style?
One of the driving forces behind the way your range hood looks is where it will be placed in your Chicago kitchen remodel. For example:
Island Range: An island range appears "free standing" but is connected and vented through the ceiling. It will be viewed from 360 degrees which is something to keep in mind. The hood should be at least as large as the cooktop.
Under-cabinet range. These are the most common type of hood, especially in apartments and condominiums where interior wall space is at a premium. These hoods are often built as part of the microwave oven. The cabinets will hide the ductwork if it's a ducted range.
Wall-mounted range. These are ducted and vented through the exterior wall or the roof. They are often called chimney hoods and can range from a very industrial, modern aesthetic to the good ol' fashioned farmhouse style and everything in between.
Most ranges are made using sheet metal that can be finished in a variety of ways. Finishes range from heat-resistant paints to faux-finishes that replicate patinaed copper and ornate wood moulding.
Searching for the perfect range hood for your Chicago kitchen remodel? Schedule an appointment with the design professionals at Kitchens and Baths Unlimited.