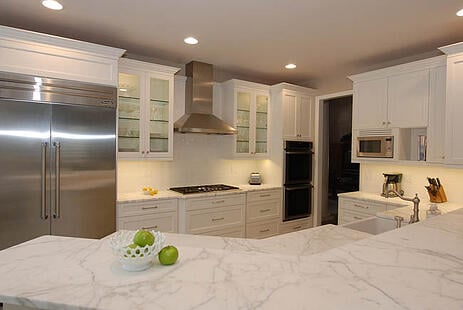 Most homeowners don't have an unlimited design budget for their Chicago kitchen remodel. If you're lucky, you'll have enough squirreled away to get all of the top-ticket items on your list.
Sometimes, though, planning a kitchen design means learning where to invest – and where to compromise – so you know you'll love the finished kitchen for years to come.
Step One: Get clear on the kitchen's ultimate functional goals
Before you start mourning all those big ticket items you fear you can't afford (you won't know for sure until your estimate(s) come in), it's essential to get clear on your functional kitchen goals.
They may be things like:
Plenty of room to cook without bumping into my helpers
A space where the kids/tweens/teens can do homework and hang out
Plenty of dining, seating and moving space for social gatherings
De-cluttering via customized storage spaces
Adding more natural light
Incorporate extra island space or an additional sink
Discussing primary goals, and prioritizing them, sifts out the items that are worth spending more on from the ones that are fine to let go or de-prioritize in the budget.
Refine those goals through the daily vs. occasional use lens
Now that you're clear, spend time refining those goals. Realistically, many of you probably read the above list and said, "Um – our Chicago kitchen remodeling goals include all of the above!" But is that true?
For example, you may hone in on the idea of a kitchen that accommodates special events and large gatherings – but then admit you really only host one or two big family or party-esque events per year. This is very different from a homeowner who hosts monthly gourmet supper clubs or weekly, Friday night potluck dinners or happy hours. In this case, perhaps you can put your dreams of a ginormous Wolff range or sub-zero fridge to rest, reallocating those thousands of dollars elsewhere.
Then again, if those bi-annual dinners require cooking for 30 or more people, you may need that range after all, but only if the budget accommodates it and it's worth sacrifices elsewhere.
Know the big-ticket items ahead of time
Are you aware of the items that typically cost the most in a kitchen remodel? Being prepared for these can help you determine where you're more willing to make compromises elsewhere.
Read our post, 5 Top Areas the Break the Budget in a Chicago Kitchen Remodel, to learn more on that topic.
Are you getting what you pay for?
When it comes to those big-ticket items, it's essential that you truly feel you're getting what you pay for…rather than paying extra for a current trend, fad or new tech gadgets that cost much less in another year or two.
An example of this could be that super-snazzy dishwasher with all the bells and whistles. If scraping, pre-washing or just plain doing the dishes is your nemesis, a deluxe dishwashing appliance may be worth it. Otherwise, find another option that compliments your kitchen, and save those extra dollars for something else you'll love.
Similarly, if you always wanted custom cabinetry but your standard kitchen layout is easy to accommodate via semi-custom cabinetry options, that "custom" money can be put to use elsewhere.
That precious marble or granite
Granite and marble slabs are beautiful and are kitchen countertop classics. They also tend to be very expensive and are not the best choices for busy, high-impact kitchens.
These days, there's quartz, Corian and other eco-friendly countertop materials that are more affordable than upper-tier quartz and granite slabs – and some look remarkably similar. In addition to saving first-time costs, you'll also save money on a lifetime of annual sealing and/or maintenance and repair costs due to chips, cracking or staining.
Read, Consumer Reports Summary on Coutnertop Materials, for a comprehensive review on the countertops with the highest durability and lowest-lifetime costs.
Kitchens & Baths Unlimited is an experienced Chicago kitchen design and build firm. We are known for our integrity and are happy to work with you every step of the way to ensure you design a kitchen that makes sense for your household, built to your budget, and that isn't based on expensive upsells you don't really need. Contact us to schedule your consultation.