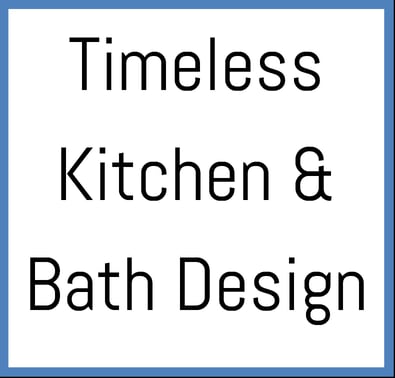 Chicago kitchen and bath remodeling requires a fine attention to balance; you have to prioritize function so the kitchen is efficient, but you also want to honor form so it looks fantastic when it's just standing there. You want to add just the right amount of contemporary conveniences and trends, without being so trendy that you wind up with a kitchen full of kitsch that you wind up replacing or redecorating again in a handful of years.
That can all be summed up with the phrase Timeless Design. When you hold a long-view for your kitchen, balancing function and form, and keep ultra-current style trends in check, you will enjoy a kitchen or bath remodel that stands the test of time.
Timeless Design Elements for Chicago Kitchen & Bath Remodels
The following tips will help you to enjoy your kitchen or bath renovation for longer - reducing time or money spend redecorating again in the near future.
Prioritize functionality
Sometimes we have the pleasure of remodeling kitchens that have remained largely untouched since their late-60s or early 70s construction. It's not that our clients didn't have the money to remodel, it's that their kitchens were so functional there wasn't any real need to remodel. It was all about the aesthetic changes. Designing a functional kitchen or bathroom - one that is customized to how your household uses those spaces - yields a design that supports day-to-day use for years to come.
Invest in durable materials
The longer something lasts, the less often you'll have to replace it - or repair it so many times that you opt to replace it. Durability is especially important for the higher-dollar areas, like countertops, cabinets, appliances and plumbing fixtures. Investing in quartz or granite, custom cabinets, and well-respected appliance and fixture manufacturers results in a design that lasts for decades.
Choose neutral colors for the foundation
Just a handful of years ago we were writing about kitchens and baths with colors that pop. Now trending colors are more subtle. All the while - white has remained a favorite and neutral foundations can always be dressed up with vibrant accents. For that reason, we recommend keeping your core kitchen or bath palette on the neutral or calmer side, allowing accents and easily-replaceable items to bring in transient color or pattern trends.
Add natural light wherever possible
You'll never regret adding natural light. In addition to energy savings, you benefit from a clean and more spacious look. If you work from home, natural light is also proven to increase productivity and overall health. Once you've customized your storage options, odds are you'll need fewer cabinet boxes. This gives us flexibility in terms of adding windows or enlarging the windows you have. We can also talk about the addition of skylights or solar tubes, which also add natural light without taking up wall space or compromising privacy.
Following contemporary trends is fine, but the best Chicago kitchen and bath remodeling firms prioritize timeless features so their work stands the test of time.