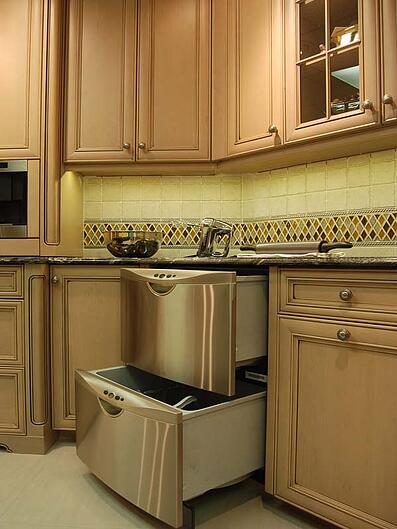 Dishwasher drawers are an appealing option for Chicago kitchen remodels because they're versatile, attractive and help busy families – or singletons – maintain more efficient, customized dishwashing rhythms.
Even so, these clever appliances (also called "dishdrawers") aren't for everyone, so it's worth weighing the advantages and disadvantages before making a final decision.
A Chicago Kitchen Design Team Can Help You Weigh the Pros & Cons
If you haven't teamed up with a Chicago kitchen design and build team, this is a good time to start scheduling consultations with reputable firms in the area. In addition to gleaning useful tips, you'll get a good feel for "who's who" and "what's what," and will know who's the best fit for your upcoming project after a few different experiences.
You'll love your new dishwasher drawers if…
You're a busy family or a dish-mellow couple/singleton
These two opposite sides of the spectrum both appreciate the efficiency dishwasher drawers offer. If you're a busy family, you'll be able to keep the cabinets stocked with clean versions of heavier-used dishware such as glasses and cereal bowls – without having to run an entire load.
If you're a singleton or couple, you'll be able to run a "drawerload" of dishes rather than waiting for an entire built-in version to fill up, which gets smelly when dishes languish too long.
You entertain often
Those who entertain often like the ability to keep stemware and precious china or crystal in a separate location from the rest of the dishes, not to mention the option of running both drawers simultaneously, but on separate wash cycles.
Space or accessibility is an issue
Dishdrawers work well in smaller kitchen footprints. While two-drawer combos take up about the same amount of space as a standard built-in dishwasher, you have the option of installing only a single drawer, which is only about 17-inches high.
The drawers are also handy in kitchens where accessibility is an preference because you only have to slide them out a small way to access the interior, and top-drawer access minimizes bending/reaching.
You may want to get a standard built-in dishwasher if…
You're building on a tight budget
Dishwasher drawers are more expensive than built-ins. Unless you're set on them or one of the above factors is ultra-compelling for you, you'll be better off spending those extra dollars elsewhere.
It's an aesthetic thing
Many homeowners opting to get dishwasher drawers integrate them with the rest of the kitchen cabinetry, although that isn't necessary. However, some homeowners simply prefer the look/function of standard dishwashing units.
You frequently use extra-large dish/servingware
As we mentioned above in the "space saving" benefits, dishwasher drawers are only about 17-inches high. If you use your dishwasher to clean extra-large dishes, platters, servingware, etc., they may not fit.
Feel free to contact us here at Kitchens and Baths Unlimited to run through your kitchen ideas and needs, and our experienced kitchen design pros can help you determine whether dishdrawers are the right fit for your kitchen's day-to-day functionality.