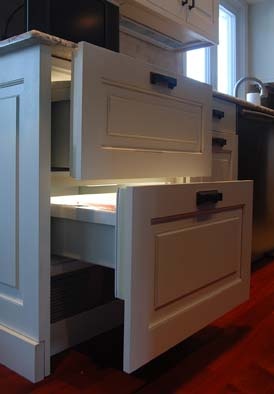 Appliance drawers are becoming all the rage these days in Chicago kitchen remodels. It started with microwaves, which looked much nicer when integrated into cabinetry rather than underneath a hood or on top of much-needed countertop space. Now, the trend has spread to dishwasher drawers, warming drawers and drawer options for refrigeration and freezers as well.
There are several benefits to appliance drawers, but it's also important to remember function and flow - in addition to resale value - when considering these higher-end selections.
Advantages to Undercounter Refrigerator & Freezer Drawers
Overflow stock. Most of our Chicago kitchen remodel clients who install fridge and freezer drawers use them for overflow stock. Or, rather, they use their standard fridge/freezer for the overstock and they use the drawers as the go-to place for food prep. This keeps all those recipe ingredient regulars at the ready and can make it possible for a clunkier, standard fridge to be located on the further outskirts of the kitchen perimeter.
Accessibility. These drawers are much more accessible for both kids and those who use wheelchairs or mobility aids because they aren't as cumbersome to open and close and they don't require an extended reach for top shelf items.
Small kitchen perks. If you're designing a small kitchen, this option may be for you. It gives your more room for countertop and cabinet storage without sacrificing valuable square footage for typical, larger refrigerators. This works best for those in apartments or townhomes close to shopping centers, where picking up little extras on a regular basis isn't a major inconvenience.
Disadvantages to Undercounter Refrigerator & Freezer Drawers
Expense. These are definitely on the pricier side so if you are on a tighter budget, you are better off throwing a little extra portion of your budget on a higher-end, standard-sized fridge and forgoing the undercounter options.
Not a substitute. Unless you are in the tiny kitchen design market, we do not consider these a substitute for a standard sized fridge. Even if you hardly cook, you'll want to think about resale value down the road. Most homeowners will continue to prefer regular fridges, even if they appreciate the drawer options, so plan for that in your kitchen design - even if you don't use the space for a fridge right now.
Inaccessible. So, above, we said they were accessible - and that's true if you're lower to the ground or in a wheelchair. However, undercounter cabinet drawers are underneath the cabinets - which means you'll need to bend down to access them. If you are tall or have a bad back, they might go underused, which would not be worth the investment.
Who Benefits the Most From Appliance Drawers?
In almost all cases, the homeowners who benefit most from undercounter refrigeration or other appliance drawer options are those who cook the large majority of their meals at home and/or those who love to entertain. Otherwise, standard options are probably your best bet.
Visit Kitchens & Baths Unlimited to learn more about streamlined appliance placement options.