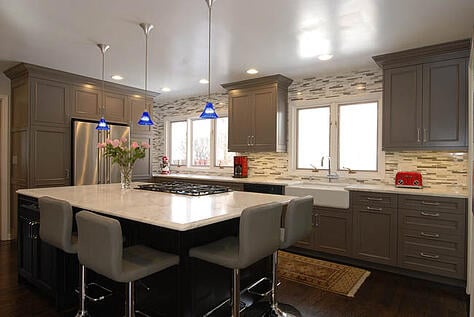 The classic "work triangle" has been a Chicago kitchen design classic for several decades now. The goal was to keep the most important food preparation elements - fridge, stove and sink - within a short distance away from one another, using an equilateral triangle as the ideal. Work triangles made navigating the kitchen more efficient for the cook.
This design standard assumed a few things:
The kitchen was small to modestly sized
You actually cooked meals using a stovetop/oven on a regular basis
Only one person was typically making these meals.
Like all great ideas, however, times have changed and kitchen designing has marched on.
Work Triangle or Work Zones: Which is Best for Your Chicago Kitchen Design?
The kitchens we design these days are often much larger than those of the past, and kitchen layouts have become more varied. Even in a "standard" kitchen, the island can disrupt the traditional work triangle if homeowners opt to forgo the inclusion of a stovetop or sink addition. Then there are the homeowners who rarely cook at all or who only ever "cook" using the microwave. In these cases, a standard work triangle doesn't always make much sense.
Thus, most designers think more in terms of zones - and your household's preferred kitchen zones may or may not include a work triangle. Instead, you should consider how you use your kitchen, which appliances are used the most, which countertops you enjoy prepping your food on and so on. These considerations will help you and your professional kitchen designer create kitchen zones that really work and truly enhance the way you use your kitchen.
Prioritize appliances. What do you enjoy doing the most? Are you a saucy cook who prioritizes fresh veggies and a stove top? Do you love to bake, spending hours mixing and rolling dough and then frosting or decorating your creations? Do you never use the microwave? Or do you shudder at the thought of life before the microwave's invention? List your appliances in the order of their importance in your life and you may determine there's a brand new triangle in town.


An accessible zone. The sooner you get kids involved in cooking and food prep processes the better. Consider having an accessible zone in the kitchen. It can include lower countertops (which come in handy later as

an accessible space

for wheelchair-bound guests or couples who plan to age-in-place) and designated drawers and shelves for kid-safe cutting and cookware.


Think about the cooks in the kitchen. In some households, there are multiple cooks in the kitchen (lucky you!). Perhaps one of you does the majority of the food prep and pre-meal cleanup, while the other one does the bulk of the actual cooking. This can also affect how you design your kitchen in terms of work zones, countertop heights/locations and so on.
Would you like to re-think the standard kitchen work triangle? Visit Kitchens & Baths Unlimited for fresh ideas about functional work zones in your Chicago kitchen design.