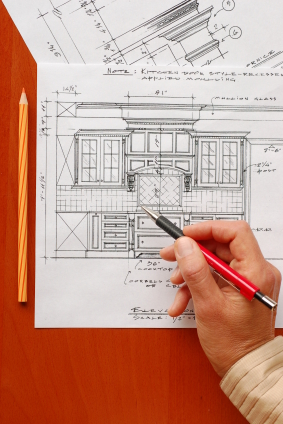 Sometimes, our clients are satisfied with their kitchen layout but desire finish and fixture upgrades. In other cases, clients are completely frustrated with their kitchen function and need a whole new layout in addition to aesthetic upgrades.
The following descriptions of popular kitchen layouts can help you determine which shape will work best for your Chicago area kitchen renovation.
6 Popular Kitchen Layouts for Kitchen Renovations in the Metro Chicago
U-Shape. The U-shape kitchen is the ultimate configuration for surface area and food preparation space. If your smaller kitchen can accommodate it, a U-shape kitchen renovation is a good option when there isn't enough room to integrate a kitchen island. In an open floor plan, one side of the U can be used as a standing bar, which comes in handy for extra dining space, kids who want to do homework, or as a buffet area for larger dinner events and social gatherings.
L-Shape. Typically, the L-Shaped kitchen has a sink on one end of the leg and a stove on the other. Again, you can use a portion of the L as bar space. If room permits, an L-shaped kitchen also works well with a kitchen island, which will provide extra storage and food prep space.
Island versus a Peninsula. Homeowners often prefer islands to peninsulas because they're usually larger, yielding greater surface area and extra room for storage or appliances. However, if space doesn't permit, a peninsula can function similarly to an island, allowing access and flow around three sides. To maintain the island look, keep cabinets on the interior side of the peninsula and use an overhang on the other side to function as a bar. You can use your peninsula to add visual interest by selecting decorative legs or a bookcase at the end which is a common choice for those who include an island for their Chicago kitchen remodel as well.
Island and peninsula. If you have the space to accommodate both an island and a peninsula, we say "the more the merrier." The majority of our clients with larger kitchen areas choose this option, which is wonderful for those who enjoy cooking on a regular basis or whom entertain regularly.
Galley. Until relatively recently, galley kitchens were the norm since the kitchen was considered a more private area of the home. Therefore, it was blocked from the living room view. It is still common in older and/or smaller homes, such as Chicago high rises, and consists of two parallel sets of countertops and cabinets running the length of the kitchen space.
Dual islands. There are several advantages to a dual island kitchen. In open floor plans, this configuration allows you to get away with one long countertop along the back wall of the kitchen and the two islands become individual work and/or entertaining stations with plenty of flow. You also gain significant storage, surface area and eat-in space.
Not sure which kitchen layout will be best for your Chicago kitchen renovation? Schedule a consultation the professionals at Kitchens & Baths Unlimited.