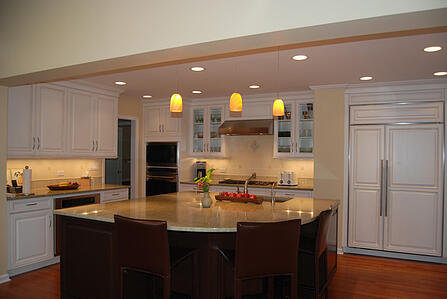 We recently posted an article about the most popular style for Chicago kitchen remodels, using findings from the Sub-Zero and Wolf's, "Kitchen Design Forecast"? as a resource. Conversations with several dozen top kitchen designers formed the backbone of that forecast and one of the findings surprised us.
Do You Know What Integrated Appliances Are?
The forecast stated, "...design pros agree that the term integrated is the most misunderstood word in kitchen design today."
One of the most popular trends is to create a kitchen that prioritizes function and streamlined efficiency and flow. Appliances such as microwave and dishwasher drawers are integrated into the layout in a way that matches the homeowners' use of the kitchen. However, that integrated is not what designers or builders mean when they use the term integrated appliances.
Integrated appliances match your cabinetry
If you hear the term integrated appliances, or integrated refrigerator, that simply means the homeowners chose to overlay the surface of the appliances (or specific appliance) with a cabinet panel that matches. This helps to camouflage the said appliance(s) so it doesn't disrupt the look of the cabinetry.
With a standard installation, the appliances are obviously visible because their finish (typically black, white or stainless steel) is different than the cabinetry. They may also stick out a bit so there is an elevation difference between the front of the appliance and the front of the cabinets.
There are two different ways appliances can be integrated into a Chicago kitchen remodel.
Partially integrated appliances
Partially integrated appliances are installed just as they would be otherwise. The only difference is the cabinet maker builds a custom-panel so the appliance blends in with surrounding cabinetry, even if there is an elevation difference. In most cases, you'll see the toe kick, air vents and other indicators that tell you it's an appliance and not a cabinet. Built-in versions will recess the appliance so it's flush with cabinets, and they can be integrated using panels, but you'll still see grills or metal door sides.
Partially integrated appliances are more expensive than standard built-in appliances but more affordable than fully integrated versions.
Fully integrated appliances
High-end kitchen designs often opt for fully integrated appliance installation. With this method, we use flush inset installation, ensuring that the elevation is consistent across the cabinet plane. All of the typical appliance indicators are hidden. Appliances are so seamlessly integrated that it's difficult to tell which panels are cabinets and which are appliances without looking for other clues.
Fully integrated appliances require a notable increase in your Chicago kitchen remodel budget, so be prepared.
Advantages and Disadvantages of Integrated Appliances
Aesthetics are a major advantage of integrated appliances over standard installation, especially in open floor plans where furniture-style finishes work better with the expanded view of living areas. However, fully-integrated appliances are more expensive and can be more difficult to maintain and repair.
Visit Kitchens & Baths Unlimited to see examples of both partially and fully integrated appliances in real Chicago kitchen remodels.