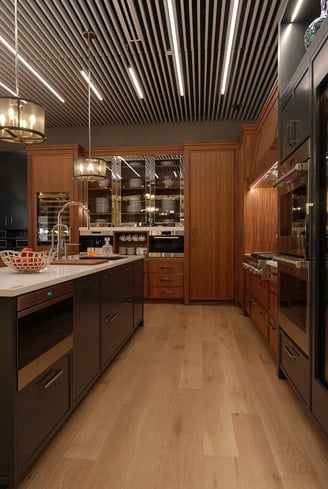 Aaaah, the kitchen cabinets. Unarguably the recipients for "The Most Visual Square Footage in the Kitchen" award, cabinet selection is one of the most important choices you'll make when planning a Chicago kitchen design.
Guide to Choosing the Best Cabinets For Your Chicago Kitchen Remodel
This comprehensive article covers everything you'll need to think about as you select kitchen cabinets that stand the test of time - both functionally and aesthetically.


Choosing between custom, semi-custom, or stock cabinets
One of the first decisions you'll need to make is whether to install custom cabinets, semi-custom cabinets, or stock cabinets. Unless you are on a very tight kitchen remodeling budget, you can rule out stock cabinets as they simply don't compare with custom- or semi-custom options in terms of quality, looks, or durability.
Ultimately, custom cabinets are the most expensive, but are also the most personalized and customizable to your kitchen layout and function. With custom cabinets, you often have more detailed options available to you, including the grain pattern visible on natural wood finishes (interested in learning more about grain pattern options? Visit, Chicago Custom-Cabinet Differences: Rift, Quarter, or Plain-Sawn).
That being said, semi-custom cabinets are a great fit for those who only need a few customized changes to accommodate their kitchen workflow or storage needs, still offering some high-quality custom cabinet options for standard perimeter cabinets
- including all the interior storage bells and whistles.
Read our post, How to Identify Quality Cabinets, for more information on what to look for, or what to ask your kitchen designer, as you move forward with your cabinets' design.


Framed or frameless? Inset or full-overlay?
Great questions, and not always that easy to answer. It's important to note that frameless cabinets, while very popular, were designed for very small (European) kitchens as a space-saving technique. While popular with modern/minimalists, they can also cause more maintenance issues over time. Traditionalists often like the framed look, while transitionalists may opt to have frameless cabinets with traditional door styles to find their happy medium.
You can review our post, Pros & Cons of Framed and Frameless Cabinets, to learn more.
Your kitchen design team will also ask whether you prefer inset or full-overlay cabinets. Full-overlay give you the benefit of the cabinet box stability with an integrated look, while inset cabinets have doors that are mounted on the interior of the cabinet door frame to make them appear flush with one another and the frame. As a result, inset cabinet doors often require more maintenance over time because the weight of the doors is less supported, so hinges need to be adjusted, tightened, replaced, etc. over the years.
Visit, What's the Difference Between Inset Cabinet Doors and Full-Overlay, and then have a conversation with your kitchen design team to figure out which one is right for your design tastes and kitchen usage.


Painted or Stained Cabinets?
If you want to keep it simple, we have a few questions for you to determine whether you'd prefer painted or stained cabinets:
Wood veneer or melamine: Which is better?
A quick mention about the cabinet interiors and their finishes. You'll have two options, melamine or wood veneer. Both are applied to the cabinet interiors and shelves, which are typically made from plywood or particle board. Also, both are durable, scratch resistant, and easy to wipe down.
Melamine is a very thin, plastic layer that is applied using heat. Sort of like deluxe, highly-durable shrink wrap for cabinet interiors. It's the most affordable of the two options.
Wood veneers are very thin layers of real wood, so they maintain the natural wood look from exterior-to-interior. Veneers can be stained, painted or varnished for a nearly exact match. That also means they are the more expensive option between melamine or wood veneer.


What type of cabinet storage and/or pantry do you want?
Cabinet storage options have come an exponential way from the Box+Shelves = Cabinet days of yore. In fact, for many clients updating older homes, the customized cabinet storage options available allow us to remove certain cabinet boxes altogether, making room for other kitchen wish list items or for a more spacious look and feel.
If you're designing a walk-in pantry with a designated door, move onto the next category. If, however, you're on the fence (Click Here) if you're on the fence about a walk-in or pull-out/cabinet pantry), it's worth doing your homework.
The functionality of your kitchen is directly correlated to your pantry design as it shares the food housing responsibilities with your fridge, and that means pantry design matters. Think about what you love - and what you don't - about how your pantry serves your household now. Jot all of your ideas and wish list items down and then we can work with your input, as well as your kitchen footprint, to determine whether the pantry can work in the cabinet layout/design or whether a walk-in makes more sense.


Can we keep our current floor?
Have a floor you love? No problem. A high-quality kitchen design-build team is adept at replacing cabinets - even custom cabinets - while preserving the current flooring. In fact, even if you opt to replace your floor, we typically install flooring first so we can install appliances and trim afterwards, yielding the cleanest look. The only caveat would be if you're planning to refinish hardwood floors in the near future. If that's the case, we recommend remodeling your kitchen first, and then refinishing the floors afterwards, for the ultimate new kitchen look.
The professional design and build team here at Kitchens & Baths Unlimited has decades of experience assisting clients in selecting the best cabinets - and other kitchen finishes - for their high-end Chicago kitchen remodels. Contact us to schedule a consult and work with the best!