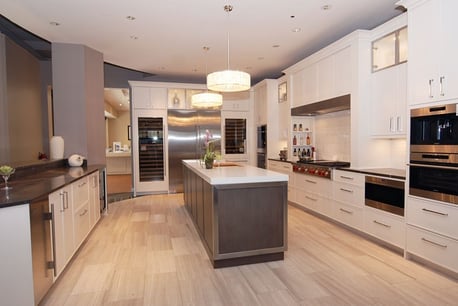 Kitchen cabinets are comprised of two separate components: the boxes (or frames) and the doors/drawers. How those two components look together depends on two major decisions you'll make; first, you'll determine which door and drawer style you want, and second, you'll choose either inset cabinet doors or full overlay cabinet doors.
Inset Cabinet Doors
These cabinet doors are mounted on the inside of the cabinet frame so they set flush with the cabinet box. It is a more streamlined appearance but since you see part of the frame, it creates a more traditional – or historical - look. Thus, inset cabinet doors work well in contemporary traditional and transitional kitchens. Inset cabinets can work in a modern design as well, depending on door styles and other kitchen design features.
Things to note about inset cabinet door options:
They are typically more expensive than full overlay options.


Because doors are mounted on the interior of the box, rather than the exterior, the interior cabinet space shrinks a bit. Depending on the size of your kitchen, you may lose storage space and some homeowners have a difficult time storing larger serving platters. That being said, a thorough inventory of your kitchen and storage needs ahead of time will help your kitchen designer accommodate for that.


Lifetime maintenance requirements tend to be a bit heavier with inset cabinet doors. Typically, there is only about a 1/8-inch margin between the door and the cabinet frame. If humidity and temperature fluctuations swell the wood, you can wind up with doors that stick and alignment issues. Continuous wear-and-tear on hinges may also affect alignment because the torque on the hinges is greater than when doors are mounted on top of the cabinet boxes.


You will definitely need some type of door/drawer hardware. Since the doors sit inside and flush with the frame, there is no way to pull cabinet doors open (as is the case with framed cabinets).
Full Overlay Cabinets
Full overlay cabinets are built more like framed cabinetry. However, instead of the gap between the doors that typically exists with framed cabinets, all the doors are set flush to one another. So, you still get that more streamlined look of door-to-door and drawer-to-drawer, without any gaps between them, but the hinges are all mounted on the front face of the cabinet box.
Things to note about full overlay cabinets:
They aren't as trendy (right now) as their insert counterparts, but they give you a similar effect for a much cheaper price so they're a better option for those on a budget.


You gain more storage space because none of the door hardware/perimeter is taking up interior cabinet space. These are often the preferred choice for those with smaller kitchens and/or fewer wall cabinets.


You'll still need door/drawer hardware since the doors are flush with one another and aren't accessible otherwise.


They're more tolerant of temperature and humidity fluctuations, and the design makes them less prone to alignment issues.
Work with a designer that goes through all the extra details with you - combining as many wall units together to eliminate the double frame, extend stiles instead of using fillers, etc.
Schedule a consultation with Kitchens & Baths Unlimited and we'll make sure the cabinets in your Chicago kitchen remodel suit your design preference, your budget and your lifestyle.