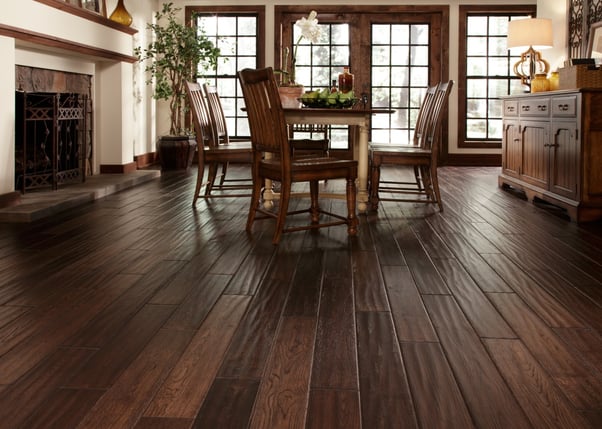 Once you've had hardwood flooring, it's difficult to go back. In addition to its rich and beautiful aesthetic, hard surface flooring is more hygienic, being much less prone to harboring dust, mites, pollen, mold spores and other allergens that become trapped by carpet no matter how much you vacuum or shampoo it. In most cases, depending on the finish or treatments used, installing hardwood floors will actually improve your indoor air quality.
Finally, today's hardwood floor finishes are extremely easy to maintain, so your care-and-maintenance protocol won't feel much different than other hardsurface flooring options.
Beautiful & Durable Hardwood Flooring Types For Chicago Home Remodeling Projects
Sometimes we hear clients shy away from wood and opt for tile in the kitchen or bathroom because they worry about water damage. If you prefer tile flooring, then fine. However, if wood is your favorite but water damage is a concern, stick with what you love.
As with any home finishing product, the "attributes of wood" - including durability - are entirely dependent on the quality of the product. A high-quality hardwood kitchen or bathroom floor will last for decades and then some with very minor maintenance.
Here is a list of the most popular types of hardwood floors, their pros and cons.
Oak. Typically red oak, this the most common hardwood flooring choice because of its hardness and durability. It's pretty dent-resistant, making it great for kitchens and other areas where things are dropped. It has a strong grain pattern (a positive or negative, depending on your taste) and takes stains well, so colors range from light to dark.
Ash. This wood is harder than wood (think baseball bats). It does take stain well, but because the color variations range from light to dark, most people opt for a clear or lighter stain. The grain is pronounced, but not so much as oak.
Maple. Being very hard, subtly grained and non-porous, maple doesn't take a stain but provides a very clean and light look. It's a good choice for high-traffic areas.
Pine. Pine is an aesthetically interesting option because of it's grain patterns and dark, funky knots. It's also soft, so not ideal for kitchens or higher-traffic areas unless you don't mind the rougher, worn look.
Bamboo. Bamboo is a very sustainable choice. Not really a tree, it's a woody grass but it grows like a weed and is easy to regenerate. While it is softer, Japanese homes and schools have been using it for centuries. It has a nice clean look and, although most bamboo floors are lighter in color, it can take a darker stain as well.
Today's finishes are quite durable and you shouldn't have to refinish the flooring more than once every 10 years, and can often go much longer without a problem. Do be aware that oil and water-based stains vary in their appearance so view samples of each before making your selection.
Visit Kitchens & Baths Unlimited to learn more about hardwood flooring choices for your Chicago home remodeling project.
Photo Credit: Texas Hardwood Flooring