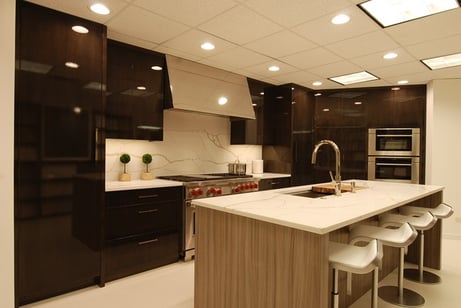 If you're working on a Chicago kitchen remodel with a design-build team, odds are you'll only select cabinets from stock or semi-stock cabinet options. It's incredibly rare – unheard of, really – for high-end builders to suggest stock cabinets; there's a reason for this.
Are Stock Cabinetry Worth the Lower Price Tag?
Stock cabinets are prefabricated, designed to meet "average" kitchen dimensions across the nation. This means they're built in 3-inch increments, leading to wasted space and excess fillers to make them "fit" your kitchen. While some are built with real wood, most are built with the cheapest materials possible to keep price-points at the minimum levels. These are the cabinets you see when you browse the aisles of big box hardware stores.
They look alright – and they'll continue to look alright for a while. Then, as a result of their particleboard, prefab, assembly line construction, stock cabinet doors and drawers begin to warp, hinges loosen and screws begin to fall out. Doors become misaligned quickly and shelving and storage options aren't as malleable as they are with custom and semi-custom options.
As a result, stock cabinets aren't anything that an experienced, professional kitchen remodeler would stand behind or warranty on any level because they simply don't meet the level of workmanship required for the job. In other words, stock cabinets aren't worth the money you "saved" because odds are repair/maintenance needs, combined with low-quality structural stability, you'll probably wish you would have invested a little more for something that lasts a lifetime.
Average Price Tag of Stock Cabinets: $75 - $400 per linear foot.
Custom and Semi-Custom Cabinets are Your Best Remodeling Option
If you're planning to invest a notable amount on a high-quality kitchen remodel, custom or semi-custom cabinets are the way to go. While you may spend more at the outset, it is worth it in terms of a lifetime of well-built cabinets, personally designed with your kitchen and household in mind.
Custom cabinets
Your custom cabinets didn't exist before your kitchen design. They are created, literally, as you work with the designer to fit the precise size, shape and layout of your kitchen.
Taken a step further, custom cabinets streamline your personalized workflow and storage needs, as well as your penchants of baking, cooking, kid snacking, homework areas, pet accommodations, accessibility and so on.
If your kitchen remodeling budget can accommodate it, stock cabinets are typically the recommended route; in addition to superior quality and customization, you only pay for the materials used to fit your kitchen – no wasted space/no fillers.
Also worth noting: those with exotic wood tastes often have to go custom as there aren't stock or semi-custom options built in their wood species of chocie; similarly, those with a preference in wood grain patterns (quarter or rift-sawn) typically need custom cabinets as well.
Read, What Makes Custom Cabinetry Worth the Extra Cost, to learn more about how lifetime costs outweigh first-time costs when designing a timeless kitchen to last for years to come.
Average cost of custom cabinets: $500 - $1400 per linear foot.
Semi-custom cabinets
One of the most popular options are semi-custom cabinets. These cabinets combine some pre-fabricated cabinets that are built by the design-build team or a preferred manufacturer along with custom cabinet additions. The result are cabinets that may use some high-quality prefabricated cabinets for some of your traditional perimeter cabinetry, but include customized options for unique angles, display cabinets and/or kitchen islands.
Read our post about KitchenCraft Semi-Custom Cabinets to learn more about their high-quality features.
You can mix and match a bit if you like, and semi-custom cabinets are often just the ticket for homeowners who don't have specialized needs for their kitchen, but desire a high-quality, all-wood product that is durable and stands the test of time.
Average cost of semi-custom cabinets: $150 to $1400 per linear foot.
Debating between custom or semi-custom cabinets for your Chicago kitchen remodel? Schedule a consult with a Kitchens and Baths Unlimited designer. We'll be honest, run through the pros and cons and decide which type makes the most sense for your household's kitchen.