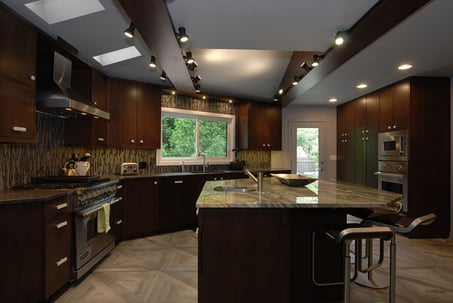 If designing a low-maintenance kitchen is important to you, we have lots of ideas for enjoying custom cabinetry without having to fret about keeping them in spectacular shape.
If minimizing maintenance requirements is a kitchen design priority for you, make sure to read, Kitchen Design Ideas for Easier Cleaning and Maintenance.
There is such a thing as low-maintenance Chicago custom cabinets
High-quality finishes and cabinet-specific paints have made it easier than ever to have stunning, custom cabinets without all the extra work of specialty cleaning or maintenance instructions. Even so, the following tips are dedicated to those who really want to minimize the amount of time they spend cleaning, polishing, touching up or the adhering to special cleaning/maintenance products and instructions.
Remember that high-quality craftsmanship matters
Doors and drawers that fall off hinges and tracks, shelves that aren't customizable to your storage needs, materials or finishes that can't match your kitchen's daily wear and tear – all of these are avoidable by paying a bit more at the outset for custom- or semi-custom cabinets. Work with a reputable design/build team to ensure your cabinets benefit from quality craftsmanship and installation, and you'll save money in the long-run via reduced repair/replacement costs.
Minimize details, trim and accents
Traditional cabinets are known for their detail work and accents. However, any extra raised or recessed trip pieces, accents and details require more work to keep free of dust, spills and general kitchen grime. Minimizing cabinet door details minimizes your lifetime workload.
This tip is easy for modern- and minimalist- design enthusiasts, but traditionalists can keep heart by looking towards Shaker-inspired cabinet doors that have a classic look, but are simple to maintain. Similarly, we advise skipping furniture-style details in general – feet, corbels, ornate moulding, etc., to decrease grime traps.
Consider staining instead of painting
Ultimately, your desire for a low-maintenance kitchen should lead your design/builder to use a high-quality, ultra-durable cabinet finish. Even so, touch-ups are inevitable if you have children, pets or a well-used kitchen. In that case, stained – rather than painted – is the way to go because it's much harder to perfectly match/touch-up painted cabinets without having to repaint the entire door. And, even then, if years have passed – that door will stand out from its neighbors.
Read, Should I Choose Painted or Stained Custom Cabinets, to explore the pros and cons of staining versus painting.
DO select cabinet hardware
Sometimes, homeowners opt to forgo hardware to give themselves time to decide exactly what they want once they're kitchen is complete (and then wind up never installing it because life goes on…). Or, they're thinking that minimizing hardware keeps things lower-maintenance and more streamlined. Ironically, installing more in terms of hardware is actually to your benefit if you're interested in less cleaning time.
Hardware keeps wet, dirty and greasy hands off the cabinet surfaces, decreasing the amount of time spent wiping the cabinets down.
Reduce glass door front and open shelving
As lovely as glass door fronts and open shelving are, they also add a bit more to the cleaning list. If you're worried that expanses of kitchen cabinets will be too monotonous without the interruption these accents provide, your kitchen designer can work with you on a creative cabinet layout or mix-and-match finishes to break things up a bit.
The design team at Kitchens & Baths Unlimited is here to help you design a Chicago kitchen remodel that reflects your low-maintenance preferences without ever sacrificing your style. Contact us to schedule a consultation.