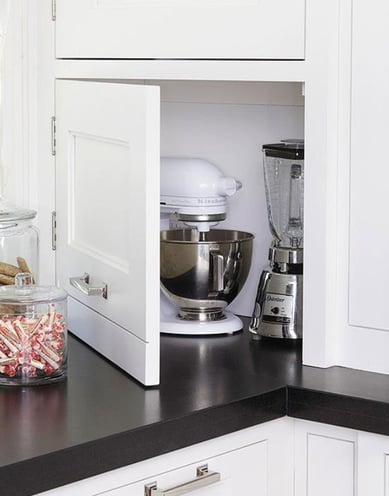 If we had a single piece of advice to give Chicago kitchen remodel clients, it's this: Be thoughtful about storage solutions to enhance your kitchen's design, function and flow. This covers a lot of ground because if you adhere to it, you'll be taking layout and cabinet selections into consideration as well.
Find Ways to Implement Extra Storage Into Your Chicago Kitchen Remodel
Here are simple solutions to gain extra storage space when you design your kitchen remodel.
Build an appliance garage. Get the appliances off kitchen countertops and into their own appliance garage. One smart idea is to

incorporate a gourmet coffee bar

into your cabinetry - it creates a much more efficient coffee station in the morning and eliminates the clutter of grinders, coffee machines, etc., on countertops. Kitchen islands are another space where open shelving or pull-out drawers can store countertop appliances that get in the way otherwise, like your blender, bread maker, mixer, etc.


Corner drawers. Corner cabinets are a big wasted space without some forethought. We recommend using corner drawers instead. By bringing all of that corner square footage to you - you'll be able to store way more stuff - and you'll never be on your hands and knees, bent awkwardly, as you reach back for that extra-large cast-iron pan.


Pull-out spice rack and niches. Notice a theme here? Why reach in when you can pull out? Pull-out shelves and drawers

make your kitchen space much more accessible

for anyone from the very young and old to the very small and tall. Spice racks and odd-shaped niches are other areas where pull out shelves and drawers are handy. Just be aware that material and labor-quality matter. Low-quality materials and shoddy labor will yield flimsy drawers that don't pull out as nicely or as stable as they should.


Roll-out drawer underneath sink. Again - an undersink roll-out drawer means you can conveniently store all of your cleaning products, dishwasher detergent and extra sponges or rags at a convenient height - saving your back from crouching down and reaching into the nether-regions of the cabinet space.


End-cabinet book shelves. Use the space at the cabinet edges for something functional. The ends of your kitchen island or cabinetry can make a great area for cookbook and display shelving. If you have enough space, we've also transformed these areas into

a perfect little home office or message center

space.


Walk-in pantry. Have the space, go ahead and create a walk-in pantry. It allows you to store food products in a single layer, making it easy to keep your pantry items fresh, tidy and on a regular cycle - no more back row cans from 1983.


Vertical storage options. Think UP as well as OUT. Talk to your design/build team about

removing soffits

and taking cabinets all the way to the ceiling to maximize your vertical storage space.


Bench seating in breakfast nooks. Use bench seating on the wall-side of your breakfast nook and you can gain storage under the hinged bench tops.
Have some ideas for customized storage space in your Chicago kitchen remodel? We'd love to hear them. Schedule a consultation with Kitchens & Baths Unlimited so our design team can get started.

Photo Credit: Better Homes & Gardens