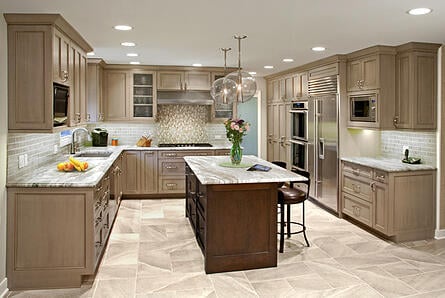 The cabinet finish you choose will likely have the greatest visual impact of all the Chicago kitchen design features you select. Visitors' eyes will spend more time looking at these vertical faces longer than they will the horizontal ones.
Plus, unlike the countertops, which inevitably become covered up or added to by the things we set on top of them, cabinet faces remain largely unadorned (outside of the hardware) so deliberations between painted or stained finishes are well-warranted.
Stained vs Painted Cabinets: Which is Better for Your Chicago Kitchen Design?
Here are a list of considerations to go through with your kitchen design and build team as you determine which finish is best for your Chicago custom cabinets.
What's the wood grain like?
Most homeowners choosing stained wood do so because, in addition to the warm stain color, they like to show off the inherently-textured wood grains. If you like more knotty and visible grains, staining is your best bet. If, however, you like a smooth or less-grainy appearance, as is the case with maple, then painting the cabinets will give you an even cleaner, sleeker finish.
Are you looking for texture?
If you're looking to add texture to the design, staining the cabinets is a simple solution. If you've chosen a flat-panel door style and a sleek countertop with minimal- to no-pattern, stained cabinet doors with lots of wood grain texture provide a nice contrast and balance.
Have you selected a countertop with a pattern you want to show off?
What's your countertop pattern like? Some of the more bold and/or colorful patterns in granite and quartz countertops are best left to shine on their own – with solid-colored cabinets to set them off. A boldly textured wood grain paired with a heavily patterned countertop may be too busy. Similarly, a beautiful but subtle countertop pattern may be overshadowed by stained cabinets if the grains are too obvious. In this case, use a solid color to let a subtle countertop pattern be the star.
If you have a countertop with a pattern you want to highlight, and you like the look of stained cabinets, work with your design team to select the right wood and the correct stain – so the two features work together, rather than take away from one another.
What is your budget?
Stained cabinets are typically 10% to 15% cheaper than painted cabinets. So, if you've splurged in one area of your kitchen remodeling budget and need to save money somewhere else, selecting stained cabinets is a smart way to do that.
Do you have a kid-heavy kitchen (Or are you a clumsy chef?)
Painted cabinets are harder to touch-up when all is said and done. Even if you have extra paint, sun-fading and general wear-and-tear change the existing paint color over time, so trying to touch-up older cabinets with a spot of new paint will result in an obvious "spot of new paint."
If you have a busy kitchen, one that's taken over by young children and/or clumsier chefs, stained cabinetry may be the way to go for longevity's sake.
Do you have to have one or the other?
Are you wholly set on having one or the other? Some of the most beautiful kitchens in our gallery are those that opt to mix-and-match, choosing painted for uppers and stained for lowers (or vice versa), or choosing one version for the perimeter and another for the kitchen island. Think about using a little of both for more visual interest and versatility.
The design team at Kitchens & Baths Unlimited is here to help you with painted vs. stained cabinet questions, as well as all the little extras that will make the most of your Chicago kitchen design. Contact us to schedule a consultation.