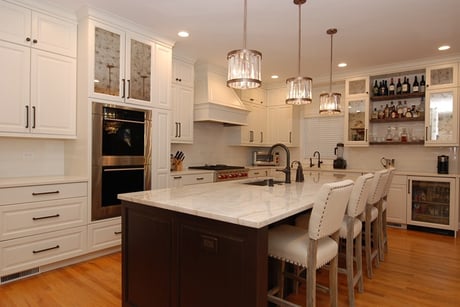 Are you in the process of figuring out what your kitchen design style happens to be? If so, your first stop should be out post, Finding Your Kitchen Design Style. There, you can begin categorizing personal preferences, and checking them against your kitchen's day-to-day lifestyle.
While there are exceptions, or variations, most people find they are either: traditionalists, modernists/contemporary-ists, or transitionalists. Over the course of the next several posts, we'll explore each style in more detail.
You May Prefer a Transitional Chicago Kitchen Design If…
By and large, most people fall into the transitional kitchen design category. Transitional kitchens offer the most flexibility because they accommodate a little of this and a little of that. So, while you may not want completely flat panel cabinetry (a little too sleek and contemporary), you also aren't interested in polishing a bunch of twisted corbels or cabinet trim pieces.
Here are hints that you may be a transitional kitchen design enthusiast, and what to do about it.
You like the comfort of traditional with low-maintenance ease
Most transitional kitchens have aspects of traditional comfort, but they aren't as ornate as a true traditional kitchen, and they are easier to maintain. For example, shaker-style cabinetry has a nice raised border, but lack of additional adornment makes it easy to clean. As a result, transitional kitchens can have a traditional "feel," but they'll have a sleeker aesthetic.
You can Click Here to see an example of a transitional kitchen. Notice how the overall look is contemporary, however subway tile layouts, retro light fixtures and shaker-style cabinets with rounded hardware give it a slightly traditional feel.
Natural countertop materials
Most transitional kitchens will have granite, quartz, or marble counters because they like the versatility offered by natural stone countertops. However, you'll notice the edges are finished simply, either square, or rounded, without any complicated edging to keep the look streamlined.
You prefer clutter-free to accents galore
Sure, you enjoy displaying a piece of pottery or two in your upper- glass door cabinets, and you don't mind a vase with flowers out on the island or bar, but a transitional kitchen is more apt to be mostly clutter-free, rather than full of sweet, heirloom accents.
Neutral color palette
Typically, a transitional kitchen design boasts a timeless, neutral color palette. This allows homeowners to express more traditional or a more contemporary flair depending on their mood or season. In many cases, transitional kitchens are more timeless designs by nature because they do such a good job of straddling both worlds.
Variations in texture
Texture is a given in a traditional kitchen because more ornate trim and accent features add dimension and relief. Texture is often lacking in contemporary kitchen designs where things can look so sleek, trim, and 90° edgy, that it falls a little flat. Transitional kitchen designers naturally find ways to add texture and dimension, but keep that low-maintenance tenet in mind.
This can happen in a variety of ways:
Using naturally finished wood that shows off the grains
Using a wood butcher block or integrating natural stone with a dimensional pattern
Balancing round and square edges or lines
Adding simple variations in texture or movement enlivens the kitchen without adding to the cleaning or maintenance list.
One focal point of embellishment
Sometimes, to pay homage to traditional design elements, a transitional kitchen may have one focal point of embellishment. It could be a more traditional style hood, or the end of the island may have some beadboard or arches framing the display shelves. Perhaps the floor has an element of a rougher, more eclectic barnwood look, or you may use a distressed finish on the island or a particular section of cabinetry.
If you're torn between the things you love about traditional kitchens, and the sleek, functional look of a contemporary kitchen – a transitional design is the way to go. Contact us here at Kitchens & Baths Unlimited to get started on your personalized, transitional Chicago kitchen design.