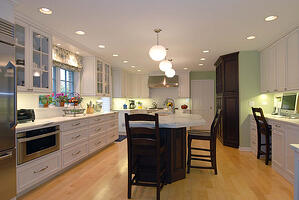 If you have a house full of children, we recommend designing a kid-friendly kitchen. In most cases, this won't entail any significant changes to your current kitchen dreams. Rather, you'll glean those "little extra" tips that enhance the function and safety of your kitchen, while also making it a space where young fry can be more independent (hurray!).
We recommend reading, Designing Kitchens with Universal Principles, because the same principles that apply to seniors also apply to families with children.
6 Great Ideas to Make Your Chicago Kitchen More Family-Friendly
Here are ideas to get you started on a family-friendly kitchen design. Maybe it's time you asked the kids, "what's for dinner…?"
1) Kitchen counters that accommodate everyone
If little ones are working and helping in the kitchen, why not give them a counter space that works for them? By lowering a section or two of the countertops, you'll make it easier to enlist their help, more accessible for children to get their own snacks and make school lunches, and you'll prevent spills and/or breakage resulting from their inability to comfortably reach the countertop surfaces.
2) Create designated (homework) stations
If you encourage children to work in the kitchen, design a kitchen layout with well-thought out stations. For example, include a designated baking station in addition to standard food prep areas.
Since the kitchen is often the snacking and homework station, including an area that serves as a mini-home office or message center can be a good way to ensure kids have everything they need while doing homework or studying with friends.
3) Comfortable bar/island seating
Along those same lines; parents with teens know that if they keep quiet, and provide a comfy space with plenty of snacks, teens will hang out for long periods of time – and parents get the benefit of eavesdropping to remain "in the loop."
Creating a bar/island overhang with comfortable seating is a great way to set the scene.
4) Touch-free lights and faucets
Let's face it; kids aren't known for their clean hands. They're also not famous for turning off water faucets or light switches. With this in mind, busy families find it helpful to install hands-free and/or motion-sensor faucets and motion-sensitive lighting features to help the kids out – and conserve resources.
5) Round those countertop edge details
If you're in the baby/toddler phases, we highly-recommend talking to your kitchen designer about rounded countertop edges, as opposed to more square versions, which minimize hard hits (and potential cuts) when te inevitable head bumps occur.
6) Keep appliances accessible
It's amazing what kids can do for themselves when they can access ingredients and kitchenware. This is why things like refrigerator drawers and lower-microwave placement come in handy. By placing these items in the lower cabinet box range, rather than above the countertop, even little ones can grab quick go-to snacks or reheat leftovers without needing your help. Thoughtful storage options ensure children have easy-to-reach cabinets/drawers of their own.
As long as you're at it, we also recommend installing warming drawers to keep dinners hot when athletes and scholars return home late after practices or afterschool study sessions.
Are you interested in a family-friendly Chicago kitchen design? Schedule a consultation with the design team at Kitchens & Baths Unlimited. We'll make sure you've thought of every little detail to make your busy household function like clockwork.