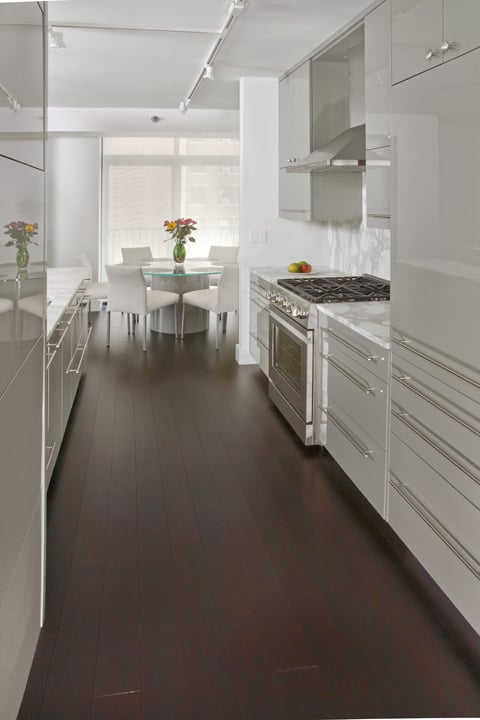 In the beginning, was the galley. And the kitchen was the galley...
Of course, not all kitchens were galleys, but many were. If you live in a historic home, in a condo or townhouse or simply prefer to have a galley kitchen, where your pre-dinner party chaos is hidden from view - there are plenty of options for designing a stylish and functional galley kitchen layout in your Chicago kitchen remodeling plans.
Ideas For a Stylish & Functional Galley Kitchen
These ideas can guide you as you hone in on the gallery layout and design for your Chicago kitchen remodeling project.
Make small look big. Some galley kitchens are quite large, in which case this isn't an issue. However, galley kitchens are typically long and narrow, so size and a sense of spaciousness can be a concern. Remove soffits and take cabinetry to the ceiling to increase storage space and make the room seem taller. Lighter and brighter finishes can also open up the space, but this Highland Park remodel shows how you can blend white cabinetry with darker finishes to enjoy the best of both worlds.


Keep the triangle. Galley kitchens get their name from their efficient counterparts - the kitchens on a ship. For this reason, it's virtually impossible to avoid the classic kitchen triangle, and why would you want to? If you have the space, you can create a modern version of the triangle by using a kitchen island for the sink and dishwasher or the oven and stovetop. Or, you might opt to have the oven on one side and the stovetop or range top on the other. In any case, galley chefs are never more than a couple steps away from key kitchen appliances.


Open up a wall. Even if you aren't a fan of open floor plans, you may want to consider opening up the end-wall that leads to the dining room, giving you closer proximity to guests and family while preparing meals. In this modern, galley kitchen design - opening up the end-wall certainly enhances the light and sense of space, while still remaining true to the galley idea. If the other end-wall is adjacent to a living area, you may want to consider adding a doorway or opening that wall up as well.


Drawer pulls. Sometimes the little extras make all the difference in a Chicago kitchen remodeling project. If your kitchen is on the smaller side, consider using at least a couple linear drawer pulls - strategically placed - that can double as dishtowel hangers on a busy night.
|
Sink & oven. While the sink and oven don't have to live along the same stretch of countertop, it's worth considering since it keeps the bulk of the "cleanup" areas in one zone.


Curves & rounds. Because galleys are linear by nature, you may want to throw some curves into the mix to balance the angles and edges. In this small galley kitchen, the dark hood contrasts attractively with light cabinets and its flared lines create a gentle curve.
Having a hard time deciding what should go where to optimize the galley kitchen layout in your Chicago remodel? Visit us here at Kitchens & Baths Unlimited and will optimize your design to its fullest potential.