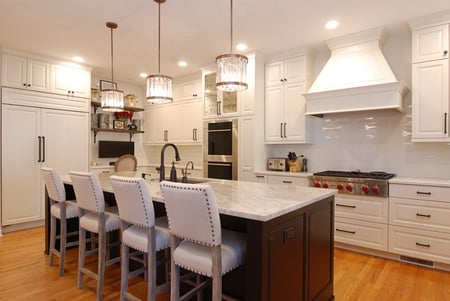 Kitchen islands went from practically non-existent to being a staple feature within a couple of decades. They support the concept that "there's never enough countertop space," and once you have access to more, you'll wonder what you ever did without it.
Countertop space isn't the only benefit of kitchen islands - they come with additional perks. You can utilize them to house an appliance and/or a sink, island interiors provide more room for storage and they are also a smart way to sneak in extra electrical access - not to mention seating.
Create an Island Paradise in Your Chicago Kitchen Design
We recommend sitting down with your Chicago kitchen designer to optimize the island in all the ways that make sense for your kitchen design. Here are some of the things that will help to make your island a kitchen paradise.
Kitchen layout and appliance placement
The kitchen layout before an island may look very different than the layout and placement after the island. This is because the island can be used to create part of your kitchen work triangle. Does it make sense to put an appliance there? Do you like the idea of an oven and stove top in the island, leaving perimeter counters free for food prep?
Or, perhaps your kitchen has an L- or U-shape design, and you'll prefer to keep the island as a countertop-only surface. The key is to really get down to the nitty-gritty of kitchen function - so island space isn't wasted.
Everything and the kitchen sink
Many homeowners choose to use the island for their kitchen sink - and that may include the dishwasher too, for convenience's sake. That being said, in the typical open floor plan layout, this puts your sink - and the dirty dishes in and around it - on front and center display from the main living spaces. You might prefer using the island for a smaller, prep sink - leaving main sink and dish areas along a back or perimeter wall.
Optimize the storage
When you add an island, you gain cabinet storage - and the planning stages of your Chicago kitchen design offer the chance to decide what you want to designate that storage for. If you are older - or plan to age in place - the expansive island cabinets may be the better spot for those larger serving platters that are difficult to access in upper-cabinets. Chefs and bakers may like the extra room to store countertop appliances out of the way, along with larger pots/pans or mixing bowls. Whatever the case, store your items smartly and use pull-out drawers for ease-of-access.
Design for seating, work space and comfort
Don't forget about extra seating options. This may come via a raised bar or simply an extended countertop. Don't forget to add extra electrical outlets - making it easier to whip out a mixer or extra coffee pot when needed. Also, countertop heights should be designed for your ergonomic comfort related to everyday prep, baking, help from children or grandchildren and so on.
Your ideal kitchen island will facilitate the ease and flow of your kitchen, so make sure you design it with that in mind.

Have questions about optimizing the island in your Chicago kitchen design? Visit the design pros here at Kitchens & Baths Unlimited.