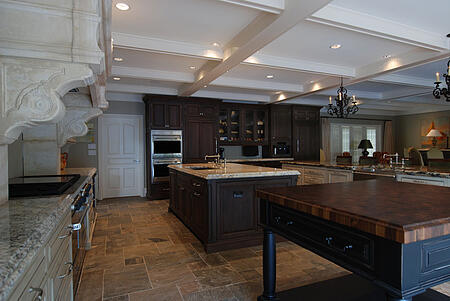 Sometimes, homeowners get so caught up in the idea of a streamlined finish, or replicating a Chicago kitchen design they've seen online, they forget there are multiple materials and finish options.
Just as you can have more than one cabinet door style or color in the same kitchen, you can also choose to have more than one countertop material. Novel concept, right?
Reasons to Use Multiple Countertop Materials in Your Chicago Kitchen Design
Function and form both come into play when choosing your countertops - especially if you have a kitchen island in the mix. So, never feel limited to a single selection.
Here are some of the reasons why homeowners choose to use more than one countertop material.
Pat-a-Cake, Pat-a-Cake. While marble can be used in the kitchen, we tend to steer clients away from this option. Marble is a softer, porous stone - and that makes it more vulnerable to scratches, stains and etching. There is one exception: the baking corner. That same, cool, smooth stone is exceptional for kneading, working and rolling out your favorite bread and pastry dough.
If you're a regular baker, think about adding marble to the area of the countertop you'll use most for that purpose. The kitchen island, or the end of an island or perimeter countertop are good for this. Customize your countertop even further by choosing the finished height for ergonomic comfort.
Add Texture. Modern kitchen designs can migrate so far into the world of sleek and streamlined that they edge right into the boring zone. All those smooth, sleek surfaces can lack texture. Mixing up materials is a smart way to add an often-overlooked design element. Butcher blocks add texture and visual interest, and wood works next to virtually any contemporary countertop selection. These Highland Park homeowners opted for a mellow quartz pattern on perimeter countertops and added more texture by using a quartz island countertop with a bolder, stone pattern.
Create Color Contrast. If you opt to install contrasting cabinet colors, contrasting countertops will seal the deal. This is a good way to bring out the color tones you want to focus on in your kitchen design. Or, you can also use different colored countertops to define different work stations and/or social zones - the same way area rugs are used in open floor plans. Perhaps 75% of a long kitchen island would be a black quartz, accommodating food prep, while the remaining 25% of the countertop is a white, lower-level finish that highlights the space for sitting and eating.
Enjoy both. If you're torn between two countertop choices, flexibility is a huge bonus. The owners of this Deerfield kitchen remodel love marble, but were concerned about its aforementioned vulnerabilities. They decided to install it on one wall of the kitchen, and selected a matching granite slab for the kitchen island, where the bulk of their food is prepared.
A professional Chicago kitchen design-build team will find a way to stylishly mix-and-match preferred countertop materials so you can have it all.