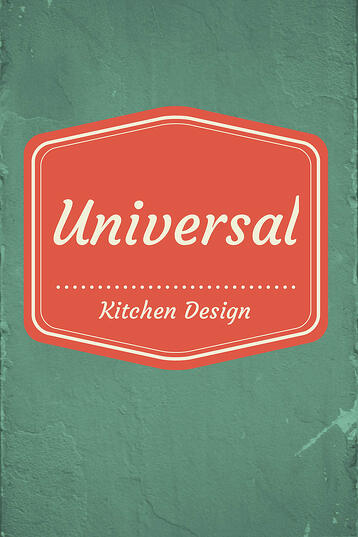 A Chicago kitchen design should prioritize function over form. That tenet also includes your vision for the future. Do you plan to age-in-place? Do you see a multi-generational home in your future, with the addition of parents or in-laws at some point? Do you want your home to be attractive to Baby Boomers if you plan to put it on the market in the next five- to ten-years?
If you answered, "yes," to any of those questions, we recommend using universal design principles as you plan an upcoming kitchen remodel.
Universal Design Principles for a Multi-Generational Home
Here are 7 things to consider, add or focus on as you plan a Chicago kitchen design that is friendly, usable and comfortable for people of all ages and physical abilities.
Prioritize movement and flow. Nobody likes a cramped kitchen so movement and flow are always important. However, if a household member winds up using any kind of mobility aid in the future, that extra room between the counters, that accommodates flow even when bar or table chairs are occupied, and additional space around the appliances will definitely come in handy whenever multiple-generations are occupying the kitchen and dining areas at the same time. Most homeowners find that L-Shaped or U-Shaped kitchens are the most convenient layouts.


Use lever or touch-free faucets. Try to minimize the amount of grip a person has to have in order to turn on the faucet. Knobs are difficult to wrap small or arthritic hands around. The same principle applies to bar-style cabinet door handles and drawer pulls.


Modify countertop heights. Having a section of lowered countertop is a bonus in kitchens where small children or seated elders can lend a willing hand.


Prioritize pull-out storage. Prioritize pull-out shelves when designing kitchen cabinet storage. Pull-out storage makes cabinet contents more accessible to everyone. The more you can bring what you need to you, rather than straining your back or knees to reach it, the better.


Consider smart appliances. There are all sorts of fancy reasons to get on board with smart appliances but we have a basic one for you: many send alerts when they are left on or left open. They'll send an alert to your smart phone so you can remedy a potentially dangerous situation.


Add some knee space. If you or another household member has to use a wheelchair, it's handy to have some open space underneath the counter so the person can sit flush with the countertop when prepping food. You can design your kitchen with a wheelchair accessible space or two for the future. In the meantime, we can

design custom-cabinet/butcher block

units that can fit seamlessly into that niche, conveniently rolled out for additional food prep space when needed. That way you don't miss out on storage space and gain much-needed food prep/serving areas for holidays and gatherings.


Focus on lighting. Make sure your kitchen lighting plan includes safety, task and ambient lighting - including soft night-lighting in undercabinets and along the toekicks.
As a family-owned and operated Chicago kitchen design firm, we're committed to designing kitchens that are accessible for every member of the family. Visit Kitchens & Baths Unlimited to learn more about universal kitchen designs for multi-family homes.