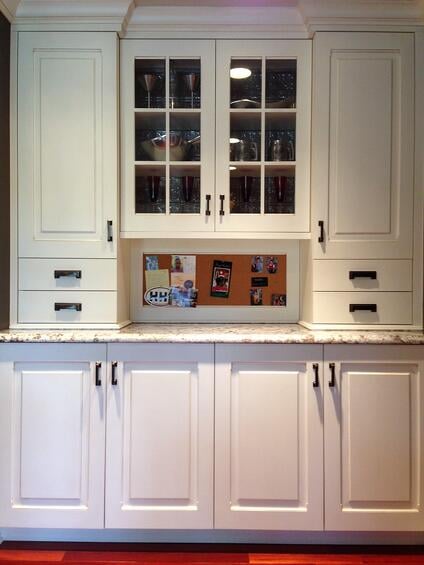 Consider the many ways your kitchen is used on a daily basis and odds are you'll realize there's a lot more business happening there than you would have originally thought. Kitchens are often the family's automatic home entry-point, especially if they're directly attached via a garage or laundry room entrance.
You make grocery lists there and the kitchen island or raised bar frequently becomes a dumping ground for mail, paperwork and electronic gadgets. Does this sound familiar? If so, we recommend adding a designated message center to the layout of your Chicago kitchen design. This center can be as large or small as you like it but we guarantee that if you add one to your kitchen, it will be used on a daily basis.
Enhance Your Chicago Kitchen De sign With a Stylish Custom Message Center
We have built plenty of message centers over the years and each one is a little different. Some are barely discernible, tucked in between and/or below the peripheral kitchen cabinetry and consisting only of a simple cork board. Others are more complex, functioning like mini-home offices, complete with a sit-down area, white boards and plug-ins for recharging gadgets.
Only you know which type of message center will be best for your family, but we are happy to offer a few ideas for you to consider. We have yet to hear any of our clients say they regret installing one, and we predict that the trending of open floor plans and social kitchen designs will make message centers a Chicago kitchen design norm.
The Mini-Office Center. If your kitchen is big enough, and you find yourself using countertop and cabinet space as a catch-all and "junk drawer," you may prefer a neat, tidy sit-down area that has a couple of drawers, a small desk space, a cork/white board for messages and reminders, key holders and plugs for recharging gadgets.
The Visible/Invisible Message Center. We can make your message center as visible or invisible as you like. For those who like the idea but are wary of the aesthetics, we recommend using a pull-out drawer or a slim cabinet that's wired with outlets in the back so your gadgets can charge out of sight. You can also use lift-up cabinet doors, like the Servo by Blum, which gives you full access when needed but closes right up to blend into your kitchen cabinets. There are also roll-top desk features, called tambour doors, that can be added to cabinetry to hide your clutter.
The Catch-all. At the very least, your family may agree that a catch-all is in order, to save your kitchen table, a countertop or your raised bar from serving that purpose. We can put an attractive recessed area in place, complete with purse or key hooks and custom shelving to act as the designated catch-all, thereby protecting your kitchen from unsightly clutter.
Contact Kitchens & Baths Unlimited to begin a Chicago kitchen design that considers all the customized extras your family needs.