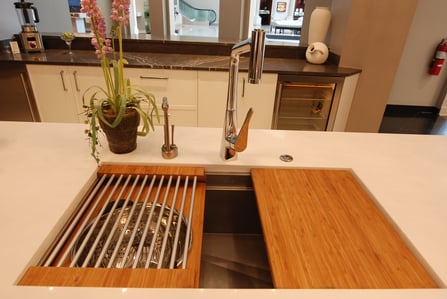 As with other aspects of Chicago kitchen remodeling, faucets must take both function and form into consideration. While you want to choose a kitchen faucet that looks great – or even one that provides Wow! factor - you don't want to do that at the expense of an artisan faucet that can't perform its intended job.
Points to Ponder When Selecting a Kitchen Faucet
In truth, faucet function should always take priority as you determine the needs for your kitchen and household. Once you've ticked the functional items on the list, your kitchen design and build team can direct you to the makes and models that will look stylish while fulfilling their desired functional components.
How busy is your kitchen?
Are you empty-nesters who only see the grandkids a couple of times a year? Or, are you a busy household with a kitchen that withstands a hearty level of wear-and-tear? If your kitchen is busy, you'll want to select a faucet that can handle high-levels of routine use without…well…losing its handle.
Industrial- or commercial-type faucets are designed to take a beating (and their sprayers do an amazing job on set-in food remnants) – plus, they look great in any style kitchen. On the flip side, less-frequently used kitchens may be the perfect spot to showcase a designer faucet with more delicate components.
Is accessibility a focus for you?
Designing universal kitchens helps both the young and the more senior members of the household. Since faucets can be tricky to turn on and off when it comes to smaller weaker hands, or older, arthritic ones, many homeowners opt to use touch-sensitive or motion-sensor faucets. Not only does this help both the littles and the seniors in the home, accessible faucets minimize water waste too.
Which kitchen faucet accessories interest you?
If you're a modernist, you'll prefer a faucet with a pull-down sprayer option, as opposed to a side-sprayer option to keep visual clutter to a minimum. Those who hand-wash heirloom pieces or wooden utensils, or who tire of getting into the bottom cabinet for dish soap often go with a built-in dish soap dispenser. Then there are other popular sink/faucet accessories, like water filtration systems and instant hot water dispensers, to think about.
Again, your kitchen designer should guide you through these and other options when choosing the right kitchen faucet for your household and lifestyle.
Are you sold on stainless or metal finishes, or do you like a little color?
While stainless steel, brushed chrome and polished nickel faucets continue to trend, so too are more colorful options – ranging from warmer metallic tones to colored faucet options. Since faucets are easy to switch in an out, choosing a more dynamically-colored or finished faucet can be a great way to implement transient trends or color preferences without affecting more expensive, permanent features, like countertops, cabinets or appliances.
What are you washing these days?
There's no doubt that deep kitchen sinks and faucets with high-arches (18-inches being the norm) are popular. These faucets make it much easier to tackle larger pasta and soup pots and allow for desirable pull-out sprayer convenience. Arched-faucets also make it easier when it comes to rinsing and clearing out sinks piled-high with end-of-the-day dishes.
That being said, homeowners who prefer a more low-profile look will want to consider other options – like a faucet with a lower clearance and a sleek side-sprayer option.
Schedule a consultation with Kitchens & Baths Unlimited to hone-in on the best faucet for your Chicago kitchen remodeling project.