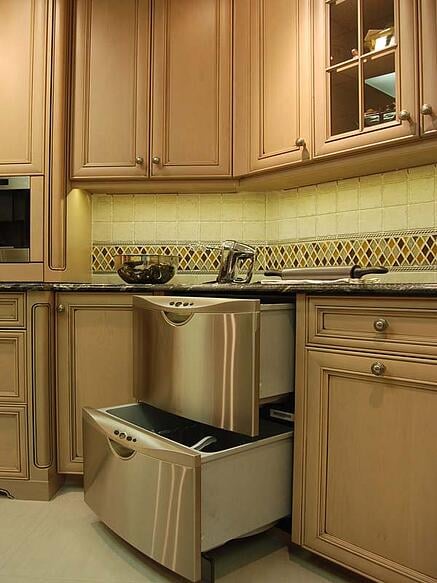 Narrowing down your appliance choices requires a careful balance. You have to consider the look you want, how you use the appliances, energy efficiency features and budget. Once you've worked those basics out, it's time to begin shopping, appliance by appliance. We're going to help you out by running through the major appliances and throwing in our two cents, beginning with the best dishwashers.
In our minds, there are really only five brands of dishwasher from which to choose:
KitchenAid
Kenmore
Bosch
Thermador
Miele
With these five brands, you are guaranteed high-quality products, good customer service and overall product satisfaction. We are going to provide our Top 3 recommendations in the low, medium and high price categories, where relevant.
We recommend signing up for your own account at Consumer Reports, so you can read more about each Make/Model online. Or, feel free to schedule a consultation with us at Kitchens & Baths Unlimited. With decades of collective experience behind us, we feel confident we can steer you in the right direction when selecting the best dishwasher options for your kitchen.
NOTE: Prices quoted are approximate as per the date of the Consumer Reports Test.
KitchenAid Dishwashers
In this category, there are only two models that we're in love with. The first is in the medium range and the second is in the higher range. If you are interested in a low-range dishwasher, jump ahead to the Bosch Ascenta. We should also note that the higher-end unit is extremely quiet, ideal for those with open floor plans.
Med: KitchenAid Conventional Dishwasher KDTM354DSS. $1200. CR Grade: 85
High: KitchenAid Conventional Dishwasher KDFE454CSS. $1500. CR Grade: 81
Kenmore Dishwashers.
All three of these models score points for their wash/dry cycles and their energy efficiency. They also boast a special motorized arm that will reverse its spin if any flatware pops out and blocks the arm's rotation. Size and layout are the only real differences.
Low: Kenmore Elite 12783. $1020. CR Grade: 85
Med: Kenmore Elite 12793. $1350. CR Grade: 85
High: Kenmore Elite 12804. $1450. CR Grade: 85
Bosch Dishwashers
These start out with the most affordable of the higher end dishwashers. You can't go wrong with Bosch. We like that even the lower-end model has completely hidden controls. The cycle times are lower but water usage is slightly higher.
Low: Bosch Ascenta SHX3AR7[5]UC. $650. CR Grade: 81
Med: Bosch 500 Series SHP65T55UC. $900. CR Grade: 80
High: Bosch 800 Plus SHX8PT55UC. $1500. CR Grade: 80
Thermador Dishwashers
When it comes to Thermadors there is only one level to recommend, and both models are in the higher price range. They are extremely efficient and quiet and run times are relatively short, even with the water sensor feature.
Thermador Topaz Series DWHD640JFM. $1500. CR Grade: 80
Thermador Sapphire Series DWHD650JFP. $1700. CR Grade: 80
Miele Dishwashers
Like Thermadors, the Miele dishwasher is inherently higher end and we recommend the Futura Dimension Series. They are some of the best dishwashers on the market in all of the major comparison categories such as wash/dry performance, quietness, hidden controls, etc. Plus, they are gentle enough to dry plastic items without the risk of melting. We also love that they display the remaining cycle time. Meile Futura Dimension Series. $1700 - $1950. CR Grade: 80 So there are some of our recommendations for your best kitchen dishwasher wish list. And remember, you can always contact the staff at Kitchens & Baths Unlimited for more information regarding kitchen appliances for your Chicago remodel.