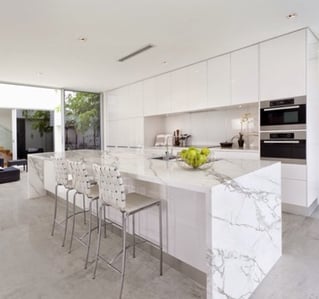 Choosing the right countertop material is an easy choice for some, and more agonizing for others as they design their Chicago kitchen remodel. It's hard to weigh all the pros and cons, especially when flipping back-and-forth through multiple online resources.
In order to make it easier for you, we've curated the most important results from Consumer Reports (CR) most recent summaries and assessments.
They analyzed differences in:
Price
Durability
Maintenance requirements
To test durability, the CR experts, "…stained, sliced, scratched, scorched, and nicked 14 materials…" And, they also determined that there wasn't a whole lot of variation in the above categories between brands, which is why they rank them by material instead.
Quartz is CR's Number One Countertop Choice
If you're in a hurry, we'll skip to the chase and tell you that Quartz ranks as CR's #1 countertop material. They consider this man-made countertop material to be the best "chameleon," able to mimic everything from natural stone to recycled glass or concrete countertops.
The price range runs from quite low to prices that rival higher-level granite and marble, so there's a price point for every budget. In terms of durability and low-maintenance, quartz is unrivaled.
When it comes to selecting a countertop for the busiest (hardest wear) kitchens requiring the most durable countertops, Consumer Reports counters ranked materials in this order:
Quartz
Granite
Marble/soapstone/limestone
Laminate
Recycled Glass
Click Here to read their pros and cons of each.
5 Best Countertops in Terms of Price and Durability
While CR's experts reviewed 14 countertops, and ranked 10 of them, we're narrowing field to a Top 5 (after quartz) since the others are not as popular, less-durable and more challenging to maintain.
These are listed in no particular order as all are comparable when you weigh pros and cons.
1. Granite is "the real deal." ($40 - $100/sq. ft.)
Granite is "the real deal" when it comes to looks and durability. Yes, it's true that granite slabs can crack and chip, but choosing an expert kitchen remodeler, and adhering to their warnings/recommendations will help you choose a slab that's right for your kitchen and its layout. It does require sealing for optimal performance and to reduce the risk of staining and etching.
2. Recycled Glass – colorful options & eco-friendly ($60 to $120/sq. ft.)
Recycled glass is mostly durable, although it should be sealed for optimal effect and can be prone to chipping or scratching with heavy wear-and-tear. It's also a bonus for those interested in designing an eco-friendly kitchen.
3. Marble – ultra-luxurious if you're okay with patina ($50 to $150/sq. ft.)
Definitely one of the pricier countertop options, marble is considered the most beautiful and luxurious countertop by many. However, it is a softer stone so scratches and nicks are inevitable over time, and you're likely to get a stain or two, or some etching, as well. If you're comfortable with a little patina, great. If not, and you have a busier kitchen, marble may not be the option for you unless you're committed to regular sealing.
4. Concrete – beautiful when sealed regularly ($60 to $120/sq. ft.)
Concrete is a contemporary trend, and it offers plenty of benefits in terms of color (it can be stained to your heart's content) and form (it's concrete – so it can be sculpted as desire). It's certainly durable and can withstand both heat and impact. BUT – concrete is made from cement, which is porous; regular sealing is essential to prevent etching and staining. Also, cracks, chips and nicks are a potential, and cracks typically require a slap replacement to repair.
5. Laminate – the cheapest, durable alternative ($10 to $40/sq. ft.)
The newest generation of laminate can mimic stone and is offered in dynamic colors and patterns. While it's durable when it comes to stains and heat, it scratches fairly easily and is permanently damaged by direct cutting. Also, abrasive cleansers or sponges leave their marks on laminate surfaces. Over time, laminate has a tendency to lift up from the underlayment so, while it's a possibility for ultra-budget conscious remodelers, we feel it's worth spending just a bit more to get a higher-quality product that lasts.
The design team at Kitchens & Baths Unlimited is happy to help you sort through the pros and cons of Consumer Reports top countertop picks. We'll help you select the right one for your Chicago kitchen remodel and your household's needs.