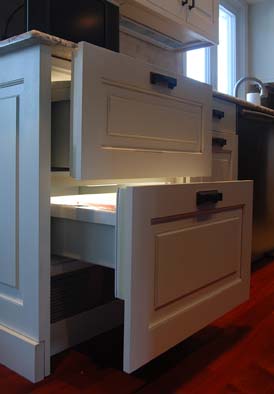 Once you've nailed down your Chicago kitchen remodeling budget, you might find there's more wiggle room than you think. Clients who are prepared, organized, and settled on what they want and who select options and upgrades that can be ordered and shipped in a standard fashion (i.e. no über-rare tiles from an obscure manufacturer in Italy), wind up pleasantly surprised at all the little extras they can add to the original plan.
6 Things Worth Splurging On For Your Chicago Kitchen Remodel
If that's the case for you, we have recommendations regarding some of useful "extras" worth considering.
Refrigerator drawers
We're huge fans of refrigerator drawers. They make a perfect addition to a kitchen island and they come in handy on a regular basis. Families with kids love the easy access to favorite healthy snacks. Because they're smaller and more manageable, they're also more accessible for little ones who get to feel independent and can get what they need without interrupting a parent.
If yo for your u cook regularly, refrigerator drawers are a great place for all those regular mirepoix ingredients, and the overflow items that won't fit in the fridge before the holidays, a dinner party or when company comes to visit. If you have a kosher home, they come in handy there too.
Warming drawers
In the beginning, warming drawers were considered a luxury kitchen item. That's still the case in some ways, but they're popularity is growing. What started out as an accessory items in kitchens that entertained on a regular basis, have now become a staple feature for busy households. Have someone who's working late? Keep their dinner warm without using the entire oven. The same goes for families with kids involved in extracurricular activities. Bakers love them for proofing dough, and serial chefs love the ability to keep first- or second-dishes hot while others are being baked at higher temps in the main oven.
Built-in microwave space
If you're used to having your microwave on the countertop, rethink that choice. With built-in options, you can get a more streamlined kitchen design and add another foot or two of counterspace. If you have a smaller kitchen, this is a invaluable addition. There's always a way to find space for a built-in microwave once we've re-organized cabinetry using innovative storage solutions.
Pot filler
Oh, you think the pot filler is superfluous, eh? Well, try one and then see what you think. Pot-fillers are such as simple integration in a space that is already plumbed and they make a world of difference. Sure, you can fill your huge pasta pot and lug it over to the stove (keeping in mind that a single gallon of water weighs 8.34 pounds…), but can your kids who want to help make dinner do it? What about your aging-in laws when they visit?
We say, why lug when you don't have to? Pot fillers are an addition that keeps on giving.
Glass cabinet door inserts

Pick an upper-cabinet, any upper-cabinet, and switch out the door panels for glass. This once change in the plan will yield multiple visual benefits. Glass cabinet doors add light and space to the kitchen area. They also allow you to add color and pattern that can change and evolve as your tastes do, so the rest of your timeless design can remain intact.
Wine & beverage cooler
Once you start tasting wines at their preferred temperature, it's hard to stick the whites in the fridge and the reds in a stand on the buffet. They lack their original luster. A built-in wine and drink cooler keeps all your favorite drinks at their recommended temperatures, and makes the perfect under-cabinet compliment to your upper-cabinet home bar.
Other splurges worth considering are walk-in pantry space, built-in dish towel hampers and hidden electrical outlets. Come on by Kitchens & Baths Unlimited and we'll keep the splurges coming for your Chicago kitchen remodel.