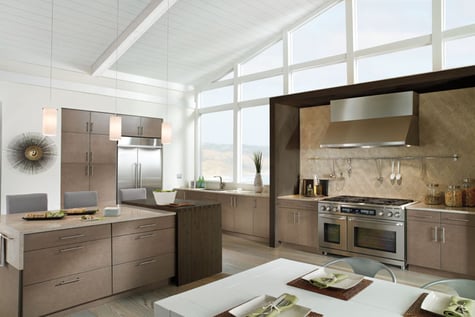 Not every kitchen or bathroom is in need of fully-custom cabinetry. In many cases, a client's needs for Chicago quality cabinets are easily met using semi-custom options. These cabinetry lines are made in bulk - similar to stock cabinetry - but they are completed using higher-quality materials and craftsmanship than their stock counterparts, and they also offer a wider range of finishes, accessories and embellishments.
If you feel semi-custom cabinets are the best route for you, you'll want to meet KitchenCraft, one of the highest-quality manufacturers of semi-custom cabinets on the market.
Kitchen Craft: A Premier Manufacturer of Modern, Semi-Custom Cabinetry
Kitchen Craft is actually a subsidiary of MasterBrand Cabinets, Inc., which got its start back in 1926 as a custom cabinet maker. KitchenCraft originated in the 1970s in order to meet the need for quality cabinetry that didn't have to be custom. If you remember that far back, the 70s is the era when traditional home designs fell by the wayside and the hip, modern household (often with two working adults) wanted kitchens and bathrooms that were more functional, efficient and streamlined.
European furniture and simplistic home design became all the rage, and custom cabinets simply weren't necessary anymore to achieve this look. Hence, KitchenCraft formed two cabinet lines - the Integra and the Aurora - which took their cues from minimalist, European designs. In 2002, MasterBrand Cabinets, Inc., acquired the KitchenCraft brand and expanded their lines of semi-custom and stock cabinetry.
Not surprisingly, KitchenCraft cabinet lines are more contemporary in their aesthetic, leaning towards streamlined edges, clean cabinet door faces and minimal frames and hardware. Even so, there are plenty of door frames and cabinet styles that work well in contemporary traditional kitchens and in homes that prefer a transitional blend of styles. As KitchenCraft says, "We make expressing yourself easy."
To show you firsthand examples, we'll share a couple photos from the Kitchens & Baths Unlimited Portfolio. The first example of Chicago quality cabinets from KitchenCraft comes to us via a North Shore bathroom remodel. We mentioned that modern cabinet design is emphasized by clean lines; this tenet is exemplified by these Kitchen Craft semi-custom cabinets in the Lexington door style. The lines pull the eye further into this luxurious bathroom space.
Similarly, a second example, showing a Northbrook contemporary kitchen remodel demonstrates how Summit doors, with their flat-slab veneer, can provide the ultimate in a modern, clean and easy-to-maintain kitchen space - sans distractions.
Also in alignment with contemporary values, the KitchenCraft brand places a careful emphasis on sustainability. They have fine-tuned their production processes to be as efficient as possible. They are certified members of the Kitchen Cabinet Manufacturers Association's (KCMA) Environmental Stewardship Program and to maintain this compliance they:
Recycle production waste products
Use low-emission finishing products and coatings
Purchase environmentally responsible cabinet materials
Would you like to learn more about KitchenCraft cabinet lines or your semi-custom options for high-quality cabinets in Chicago? Contact Kitchens & Baths Unlimited.