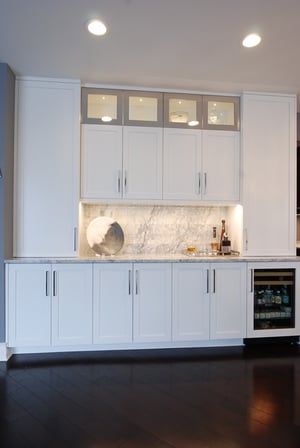 If you're a consummate entertainer, your Chicago kitchen design needs to go beyond the basic looks and function, creating a space that also accommodates the free flow of dinner guests and party-goers.
The home entertainer continuously finds him/herself at the center of the food prep and serving action, as well as the hub of human connection and conversation, and this requires an extra special kitchen remodel.
5 Tips Chicago Kitchen Design for Those Who Love to Entertain
Here are 5 tips to steer you in the right direction as you design a kitchen that meets your everyday needs, in addition to providing the efficiency and spacious flow required when guests are in the house.
1) Dial in on the right appliances for you
Appliances may need to be a primary consideration before you work with your designer on kitchen layout and workflow. Determining the needs of the former category will naturally lead into the latter. Things to consider include:
Knowing the types of appliances you want will help tremendously when it comes to the layout.
2) It's time to hire build a butler
If it's at all possible, a butler's pantry makes all the difference when it comes to overflow of any kind – food, beverage, ice, mess, etc.
3) Include comfortable seating space
You'd think with the popularity of the open concept kitchen, more people would congregate in adjacent family room spaces since it's almost like being in the kitchen anyway, right? It seems that even the world's most comfortable couch is not enough to keep certain guests from flocking to the kitchen.
Thus, we recommend prioritizing as much kitchen-centric seating options as possible, and making them comfortable. If there's room, you may even consider adding a second kitchen island or peninsula. Just think – it's a great way to entice others to help out a little more with food prep…
4) Make way for an additional sink
Extra sinks really help out, especially if you can't take us up on the butler's pantry idea. Even a smaller bar sink can be a lifesaver when it comes to washing glasses, or having another dish receptacle as your main sink fills up towards the end of the night.
5) Get picky about storage
Storage is always a priority in a kitchen, but it's especially important for those who entertain. Take the time to do a full-inventory of your kitchen cabinet and pantry contents and create a color code or number system to establish items used every day, those used once-in-a-while and those used for entertaining-only.
Bring the coded list in to your kitchen design-build team, who will assist you as you determine what should go where – as well as the customized storage options that yield exceptionally efficient cabinet and drawer spaces.
The more you keep "entertaining-only items" on the outside perimeters of the kitchen core, the easier it will be for guests or catering staff to grab what they need without invading the primary work space.
Need to hire a Chicago kitchen remodeler who thinks of all the important details when it comes to designing a kitchen for entertaining? Schedule a consultation with Kitchens & Baths Unlimited. We've designed some of the more luxurious, entertainment-friendly kitchens in Chicagoland.