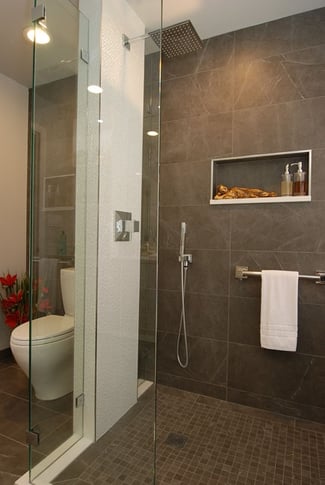 Unless you just love remodeling your home every five years or so - creating a timeless Chicago bathroom design is the way to go. By designing a bathroom that stands the test of time, you know you'll love the space - and future homebuyers will, too - year after year, and decade after decade.
The idea is to choose "permanent" bathroom fixtures and features that are all about timeless appeal and function, and utilize less permanent accents (art, curios, wall colors, etc.) to honor more fleeting design trends.
Essential Features for a Timeless Chicago Bathroom Design
Here are the features you'll want to plan well to create a bathroom design that won't need to be renovated again for at least 15 or more years - perhaps even longer.
1. Functionality
In a tract home or town home style development, low-cost trumps functionality in most living spaces - and that includes the bathroom. Thus, home builders are more apt to put plumbed features as close as possible to other plumbed features on the adjacent wall - but that doesn't mean sinks, showers, toilets and storage spaces are placed where you would prefer them. The same goes for standard materials selections.
So, Step 1 of any bathroom remodel should be to evaluate the layout. In our post, The Dos and Don'ts of Having Your Bathroom Remodeled, we emphasize this point, "Don't assume your current layout is the only option. Talk to your designer about the options and you may find that switching the layout improves bathroom flow and function." Then you can create a bathroom with customized functionality and materials that will last.
2. Drain sizes
If you live in an older home, you may find upgrading your drain sizes improves sink, bath, and shower drainage. Replacing older pipes is also a good thing to do at this juncture since builders are accessing interior wall spaces anyway.
Keep in mind that certain plumbing features such as contemporary wall-mounted toilets have special requirements. Similarly, if you plan to age-in-place, accessible bathroom design features, like walk-in tubs or walk-in, curbless showers with infinity drains, this is the time to install the right plumbing fixtures.
3. Lighting design
Bathroom lighting plans are unique. First, most bathroom spaces have minimal access to natural light. Second, vanity lighting needs careful consideration since the wrong lights, placement and/or angles create harsh lights/shadows, making it more difficult to get ready and know what you'll look like in "the real world." Then, there's the ambient lighting needs for luxury areas such as the soak tub or the steam shower.
Read, Chicago Bathroom Remodeling: How to Create the Right Lighting Design to make sure you've covered all the basics.
4. Toilet
The idea of the "standard toilet" is getting less standard all the time. In addition to building codes' water-saving requirements, luxury toilet options may require planning ahead in terms of wall-reinforcements or upgrades in plumbing connections and drain requirements.
5. The shower floor
The shower floor deserves some attention for several reasons - trends, accessibility, safety and style.
If you're planning to design a curbless or walk-in shower, you'll need to think about whether you want your shower floor to be continuous with the rest of your bathroom flooring, or whether you want to use that area for a contrasting tile or color option.
Frameless glass shower doors aren't going anywhere soon, so remember this area will be visible from the rest of the bathroom. Neutral colors, accented by monochromatic subway tiles or mosaic panels, are a good way to go for a timeless look.
Visit our post, Tips for Choosing Tile for Your Shower, to help with your selection process.
6. Cabinet storage needs
The same organizational features available in the kitchen - pull-out shelves, custom organizers, hidden electrical outlets - are available for bathrooms.
Just as we noted in #1, Functionality, the toiletries and accessories used morning and night, the items you store in your bathroom cabinets - all of these are considered when designing your bathroom. Cabinet storage and design should compliment your use of the space, so you have everything within easy reach.
7. Shower and/or tub
First and foremost - do you want both? While bathtubs were fading from the bathroom scene in lieu of larger shower spaces, that trend has reversed and soak tubs are on the rise again. Knowing where you stand on this issue is key since - as we've already noted - plumbing is something you want to take care of once and for all during the demo/prep phase, rather than something you want to re-do because you've changed your mind or weren't prepared for future improvements.
Contact the team at Kitchens & Baths Unlimited to get started on your Chicago bathroom remodel. Our goal is to design and build a custom bathroom space that will look and function beautifully for decades to come.