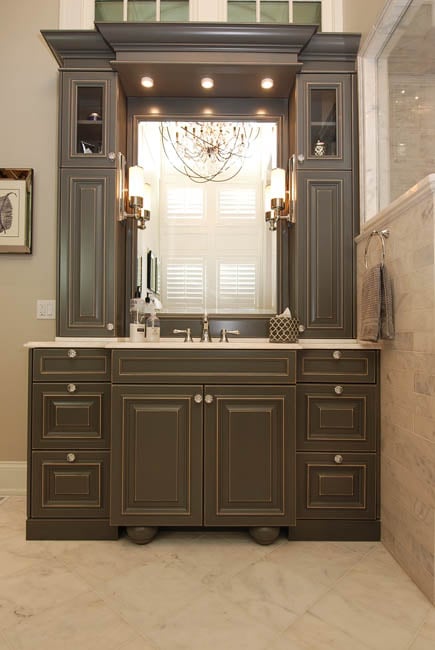 By now, you've realized that selecting Chicago custom cabinets requires a whole new set of vocabulary - seems to be the way with remodeling doesn't it? All of a sudden you need to know the difference between custom and semi-custom cabinets, and you'll become fluent in the different types of wood trim available to you.
As you make your way through the bathroom remodeling terminology, you'll occasionally come across terms that are used interchangeably, even when they might mean slightly different things - cabinet and vanity are two of these.
The Differences Between Bathroom Vanities and Bathroom Cabinets
In truth, all bathroom cabinets topped with a sink are considered vanities, but not all bathroom vanities are considered cabinets. Notice that we said, "topped with sink?" If you have a set of bathroom cabinets that are used for extra storage, and aren't connected to a sink, the term vanity would not apply.
By definition: A bathroom vanity is a combination of a sink and the storage structure around it. In addition to storage, it also hides exposed plumbing to keep things looking more neat and tidy.
In some cases, bathroom vanities are very streamlined, mostly hiding the plumbing and with minimal storage to speak of. In other cases, the bathroom vanity will include a nice sized cabinet or even a wall-to-wall configuration.
Did you know bathroom cabinets are different than kitchen cabinets?
It's also worth pointing out that bathroom cabinets differ slightly from kitchen cabinets. While the style, installation and finish may seem identical to kitchen cabinets, bathroom cabinetry is slightly different.
First, they're shallower. Kitchen cabinets are typically 24-inches deep, while bathroom cabinets are 21-inches deep - and sometimes even shallower in small, custom bathroom applications. Second, they are also shorter: 30 - to 32-inches high, as opposed to standard 36-inch kitchen cabinets height (something to consider if you are taller and want to customize your bathroom vanity so it's more ergonomically comfortable for you).
Now, back to vanity designs.
Design a Bathroom Vanity to Fit the Space
Here are considerations when designing a bathroom vanity to suit your space.
Size. Is your bathroom on the smaller or larger side? Smaller bathrooms benefit from lower-profile vanities that make the room seem larger. Floating, or wall-mounted, vanities are a good option in this case. The air space beneath the vanity increases visual depth and still provides room for undercounter basket or container storage.


Use. If you're designing a powder room your needs will be quite different than that of a family-friendly hall bath or a luxurious master suite. The more frequently a bathroom will be used, the more thoughtful you'll have to be about storage capacity and maintenance requirements.


Sinks. How many sinks do you want? Ideally, if you're interested in having two sinks, you'll want your vanity to be at least 60-inches (5-feet) wide, leaving elbow room for the two of you as well as extra countertop space.
Visit Kitchens & Baths Unlimited and view our gallery of bathroom vanities built from Chicago custom cabinets.