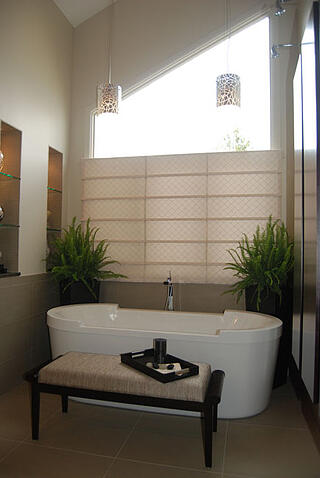 As one of the rooms you use on a daily basis, the bathroom is one of the most important areas of your house. Whether you're getting ready for work in the morning or simply need to relax, there are many reasons why you want your bathroom to be fashionable yet comfortable. By staying aware of the latest bathroom remodeling trends, you can ensure that your bathroom is all of these things once your project is complete.
Bathroom Remodeling Trends to Consider
Multi-head showers. These have almost become a staple in modern showers. Aside from convenience, multi-head showers provide incredible comfort, as streams of water jet from both sides to massage your body.


Glass tiles. With minimalism becoming a huge part of interior design, glass tile is one of the latest bathroom remodeling trends. It's a simple way to add beauty effectively without an overtly garish design.


Radiant heat. Don't you hate leaving the warmth of your bed in the morning in the middle of winter? With radiant heat, you never have to worry about that, as radiant heat can warm you up anywhere in the bathroom – and we mean anywhere.


Steam shower. Looking for a way to detox naturally, especially after a good workout? There are very few ways to do so better than a steam shower. No wonder this is one of the top bathroom remodeling trends, especially among active couples.


Technology in the bathroom. Technology is taking over our lives – it's everywhere! But don't worry: that's a good thing, as it improves our conveniences on a day-to-day basis, even in the bathroom. Technology can take on many forms, from a trick-out shower to the installation of a sound sytem.


Walling off the toilet for privacy in a master bathroom. Need to take care of business? Then it's important to have the option for privacy, especially in a large master bathroom. More and more people are putting up partial walls or full enclosures to give the commode area more privacy.


Hands-free faucet. While originally a staple in public restrooms, this technology is one of the must-have bathroom remodeling trends of 2013. You'll love the convenience and the stylish look it can add to any bathroom!


Water saving fixtures. Aside from lowering your monthly electricity bill, water saving fixtures are good for the environment, as they lower your carbon footprint!


Standalone tub. Sometimes, you're just not in the mood for a shower. Feel free to indulge yourself in the comfort and relaxation available only from a standalone tub!


Soft-close toilet seats. Remember what we said about technology being everywhere? Well, we literally meant everywhere. This innovation was specifically designed to reduce injury and eliminate the annoying "toilet seat slam". This is acheived by utilizing a "soft close" hinge which lowers the seat and lid down to the bowl quietly and gently.
Although this isn't a complete list of all the trends, these are some of the hottest trends in bathroom remodeling that we are seeing for 2013. What trends have you seen and feel should make the list?