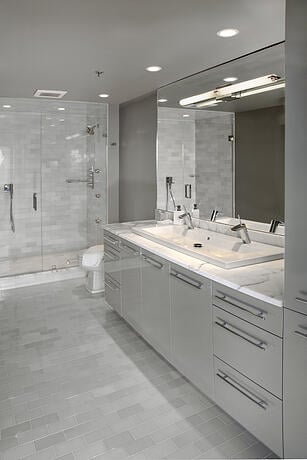 Lighting design is a crucial part of any professional Chicago bathroom remodel, because light quality directly affects how colors and objects appear to the human eye. Think about standard bathroom lighting - typically consisting of a light bar across the vanity and an overhead light.
The end result is a harsh glare emanating from the bathroom mirror and other reflective surfaces. The area immediately surrounding the vanity, or directly beneath the overhead light will be overly lit, while other areas of the bathroom are dulled by shadows. There is a distinct lack of balance.
Create a Balanced Lighting Design in Your Chicago Bathroom Remodel
A great lighting design plays with three different types of lighting: task, ambient, and accent.
Task lighting is used for things like applying makeup, doing your hair or putting in your contacts. It will also come in handy when shaving or removing a child's splinter.


Ambient lighting is adjustable so you can enjoy softer light in the early morning hours or the middle of the night, or to enjoy long steamy showers or soaks in the tub.


Accent or artistic lighting may be used to highlight a piece of art or to change the light color in the bathtub or shower. It may also be a luxurious overhead fixture, like a chandelier or a swanky modern piece, that adds visual interest on its own.
With these ideas in mind, the following are tips for implementing thoughtfully balanced lighting elements so your new bathroom design looks its best at any time of the day or night.
Countertops. The countertop and vanity areas are where task lighting is most useful. However, most homeowners make the mistake of using overhead lighting in these areas. If you want to install some recessed cans on dimmers, that's fine. However, keep in mind that overhead light casts shadows, making it more difficult to see the contours of your face without tilting it this way and that.
Instead, install vertical or sconces alongside the vanity mirror to enjoy illumination sans shadows. These lights should be installed at eye level. If you prefer the look of a horizontal light strip, mounted above the mirror, make sure the fixture(s) have adequate shades to diffuse the light as much as possible.
Undercabinet lighting. Installing undercabinet lighting is a wonderful way to showcase your bathroom after the sun sets, and before it rises, serving as an ideal night light and/or safety light. A low-wattage LED system works best here.
Shower and bath areas. The shower is best illuminated using recessed downlights with shields. At their brightest, downlights provide task lighting for shaving or cleaning. On a dimmer, the downlights will provide a romantic glow.
Decorative lights. Also called accent lighting, recessed directional cans are ideal for illuminating sculptures, art or flower arrangements. An attractive suspended light in the middle of the bathroom, or over the soak tub, provides decorative light as well.
Begin working on the right lighting design for your Chicago bathroom remodel at Kitchens & Baths Unlimited.