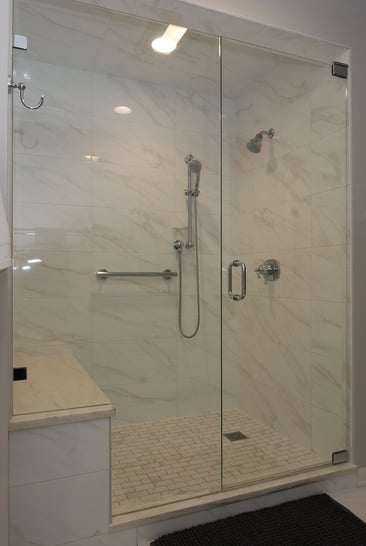 There are two lessons that have sunk in over the past 10 years. The first lesson: "you may have to live in your home longer than originally planned," was the result of the 2008 recession. The second: "living in your home longer than originally planned is more desirable than moving to a new community," is the result of a large Baby Boomer generation that would rather age-in-place in their own home than move to an assisted living facility.
To both counts, we recommend creating a Chicago bathroom design using universal design principles.
Universal design principles benefit everyone
The interesting thing is that while universal design principles were originally conceived of for the aging and disabled, they are now becoming a tenet of design in general. With the rising number of multi-generational households, and a focus on function and practicality, livable designs make good sense.
The best news of all for your Chicago bathroom design is that the bulk of the features mentioned here are staples of good, contemporary design.
Think about space and movement. Ultimately, your bathroom design should be comfortable to navigate. Should you, a relative or a household member ever require a wheelchair or walker, there should be enough space around the toilet and bathing area to walk around or maneuver a full circle. If your bathroom is on the cramped side, see if there is any room for expansion by manipulating internal or external walls.
Professional layout and ergonomics. Work with a professional design and build team to enhance the layout and flow of your bathroom. Simple switches in location and proximity can make your bathroom more efficient and comfortable in the long-run.
Handles, levers and touch-free features. Knobs are difficult to grip. That's the case for children with small hands, as well as older adults with arthritic hands. For this reason, universal designs incorporate levers or touch-free faucets, and they focus on bar-style cabinet pulls and drawer handles - all of which make those accessories easier to handle.
Install grab bars. Why wait to install grab bars until you need them? Instead, integrate them into your design now and you can do it with style. The bathroom is the most dangerous room in the house due to the slip-fall-bang factor - regardless of age or ability. No matter how able-bodied you are, appropriately installed grab bars will be used regularly.
Design a walk-in shower. Walk-in showers are attractive - and they improve bathroom safety. Using gentle slopes allows water to move towards a corner drain or channel drains, away from the shower entrance. Now you don't have any trip hazards in your way, and the shower can be entered with a mobility aid if necessary. Implement a variety of faucet options so showering remains a luxury whether you're sitting or standing.
Other must-have features for a universal Chicago bathroom design include slip-resistant flooring, pull-out cabinet storage and a lighting plan that accommodates safety, task and ambiance.
Visit Kitchen & Baths Unlimited to begin imagining your livable, universal bathroom design.