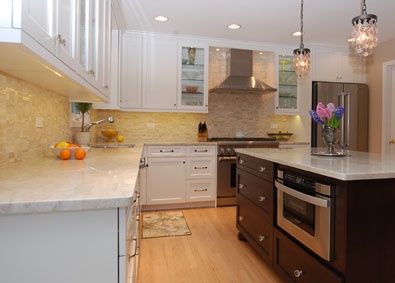 Remodeling prior to selling your home can help it sell faster, and can also net thousands of extra dollars in ROI – but only if you do it right.
So, what does doing it right mean?
Chicago Kitchen & Remodeling Ideas to Increase Home Sale
Here are some of the kitchen and bathroom remodeling ideas that make homes more attractive to future homebuyers - and that pay for themselves and then some.
Keep things simple and timeless
While your orange and green kitchen is gorgeous – and exemplifies your zest for life, it's not a simple or neutral feature or style. Instead, we recommend keeping things very simple – uncluttered – and timeless. This will help future homebuyers envision themselves living there without any major additions or changes needed. You can still enjoy your zesty color and style preferences via transient accents that you take with you when you go.
Open up the space
If your home is older, you probably have a galley kitchen and/or a layout that is somewhat compartmentalized. However, open floor plans are still trending so opening things up via the removal of a wall, re-thinking the traditional dining room, etc., keeps things feeling more spacious and filled with light.
Add "wow" factors
Simple is one thing, but that doesn't mean you can't create "wow" factor with the some extras homebuyers are looking for. For example:
Think in terms of universal, accessible and multi-generational design
This year, Remodeling Magazine's, "Cost-to-Value" report had a surprising addition to the standard list upgrades and remodels that increase house sales. According to realtor.com, "A universally designed bathroom…reaps a respectable 68.4% ROI."
From Baby Boomers who want to age-in-place, to those with disabled household members, relatives and/or friends, to families with children - universal design principles are increasingly sought-after and could seal the deal if you're willing to make some sensible changes to kitchen and bathroom areas.
Increase you're curb appeal
Study after study has shown that curb appeal matters in a big way – the real estate market's example of, "first impressions are lasting." As long as we're in there remodeling your kitchen and bathrooms, we can also ensure the porch, front door, windows, window frames, exterior paint, etc. are up to par. We'll make sure those house-hunters appreciate what they see from the moment they pull up to the curb, until their tour of your home is complete.
Interested in remodeling the kitchens and baths in your Chicagoland home? Schedule a consultation here at Kitchens & Baths Unlimited. We'll do a walk-thru of your home to determine which remodeling features will have the best ROI for a resale.