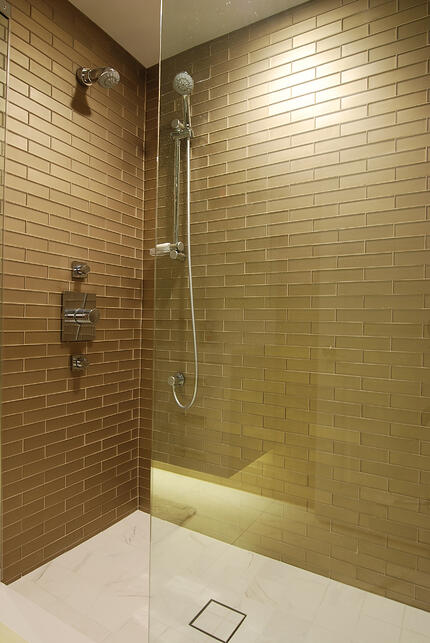 Your shower tiles are more than just a water-proof surface protecting the walls, they're also an artistic medium you can use to add serious visual interest to your bathroom design. During a bathroom remodeling project, choosing tiles for your shower requires a little bit of forethought so you can select tiles that yield the look and feel you want.
From tiles that replicate natural stone to bright and colorful shiny glass options, the world is your oyster.
8 Tips for Choosing Tile for Your Shower
Consider the application. Tiles are not all created equal and not all tiles are worthy of shower applications. Make sure you are viewing tiles appropriate for showers before you get your heart set on anything.


Big or Small? Big tiles are wonderful for walls and barrier-free designs. They are also recommended for

universal or accessible bathroom designs

. Keep in mind: all that wet, hard surface area can get pretty slick so if you like the idea of larger tiles (less grout) on the floors, you want to make sure they are slip-resistant.


Use small tiles on curved designs. Speaking of small tiles, if you are going to use curved surfaces or designs, small tiles are best for yielding more fluid lines.


Think with your skin. Your feet aren't the only ones that will be touching the tiles. If you incorporate a seat or a bench, the skin on your backside will be making contact with the tiles so you'll want to consider what they feel like. The backs of your legs will be coming in contact with the edges of the bench, so curved edges are usually recommended to avoid sharp, angular ouchies.


Smaller is better with glass. Part of the appeal of glass tiles, their translucence, can also be their downfall since it reveals any imperfections or hints of moisture that gets trapped behind the tile. For this reason, we recommend using glass tiles that are on the smaller side so these imperfections aren't as noticeable.


Be thoughtful about the ceiling.

Steam showers are increasingly popular

, usually requiring a shower design with a sloped ceiling. And, remember what the rule was regarding curved surfaces? That's right - smaller is better. We're not talking tiny mosaics here, just try to steer clear of the 12x12s or larger tiles for a more uniform and tidy look.


Think about transitions. We've established that smaller tiles provide a better non-slip surface, thanks to the grout, but this can make for messy transitions from your larger wall tiles. Try using sections of the larger tiles to frame the floor tiles, which makes for a better transition.


Don't forget about cleaning. Remember to think about cleaning with you're choosing tile for your shower. Regular cleaning is key to ensure your new shower design always looks its best. If you are daunted by the idea, keep your design on the simpler side.
Need assistance or advice choosing tile for your shower design or have other bathroom remodeling questions? We're happy to help. Give us a call, (847) 729-1212 or contact us online.