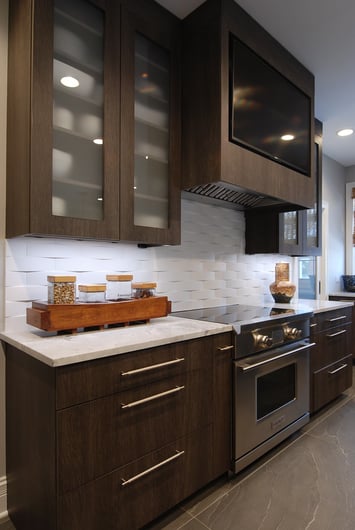 Imagine completing a beautiful kitchen remodel, one that cost you tens of thousands of dollars, only to find the layout and flow doesn't work.
Don't let that happen to you!
What NOT to Do When Designing a Kitchen Layout
Typically, we like to focus on what you CAN do to design your dream Chicago kitchen layout. However, sometimes, it's worth it to work backwards. Here are some of the most common mistakes we've seen over the years – in the hopes that you'll avoid them.
Changing the layout when it was just fine as is
First and foremost – don't change your kitchen layout if you don't need to. Often, those changes lead to electrical, plumbing and structural changes that add major $$ to the budget. See if your current configuration can be redesigned to work for you before making any significant alterations in the layout.
Forgetting how much space is actually needed to move around
If you aren't careful, you can wind up designing an island that is too big, creating an overhang that is too wide, opening the dishwasher while bumping your rump on the counter behind you, or adding a peninsula/countertop addition that seems good in theory - but doesn't work in practice.
Make sure you've allowed for plenty of clearance around things – so you can walk easily, bend over and reach freely when necessary, scoot out the countertop bar chair without bumping into the family room couch, etc. If you want to be extra diligent about this – design your kitchen with universal or accessible features in mind.
Putting Looks Ahead of Function
We love how Houzz and other online design websites have inspired our customers. Sometimes, though, their desire to achieve a kitchen that looks just like the picture has nothing to do with how they actually use their kitchen on a daily basis.
Your kitchen design consultation should include detailed conversations about how your household uses the kitchen throughout the day. This way, we can create a functional design that accommodates your personal workflow, and the aesthetics will fall beautifully into place afterwards.
Ignoring appliance measurements
We love subzero refrigerators and extra-large Viking ranges as much as the rest of you – but not at the expense of your kitchen design. Pay careful attention to appliance measurements and ensure your cabinet design has been drawn up accordingly. Otherwise, you can wind up with awkwardly fitted appliances that jut out into the workspace, rather than being tucked neatly inside cabinet and countertop perimeters.
Assuming your current lighting design works just fine
In a perfect world, your current recessed cans will be able to remain in place. In reality, your kitchen's lighting plan may need to adapt to its new dimensions. Failure to customize a lighting design with the updated design means chopping food in the shadows or not having adequate safety/ambience lighting after the sun sets.
Wasted space
If you're not careful, wasted space can happen anywhere. It can show up in a kitchen island that is oversized for your use, which means your kitchen is cramped when it didn't need to be. Waste shows shows up as too much room between the sink - or oven - and a corner pocket, giving you an awkward countertop space that isn't useful. Again, this comes down to poor pre-planning of a kitchen, which should always accommodate usage first, and then aesthetics.
Cabinet doors and drawers that bang into things
Storage should be accessible, and the doors and drawers that house stored items should be well-placed. That means they shouldn't bang into things – or each other – when they're being opened and closed for routine kitchen use.
Want to ensure your kitchen design is free of common mistakes? Contact Kitchens & Baths Unlimited to work with Chicago kitchen design professionals who are known for their beautiful, functional, and personalized kitchen remodels.