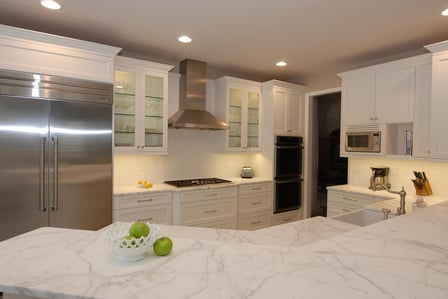 We've covered what to do before starting a Chicago kitchen remodel – in terms of planning and preparation. We've also offered valuable tips on how to survive the remodel itself, since it can take upwards of two or more months to complete a total renovation or kitchen design overhaul.
4 Steps Required After the Remodel Is Complete
Now, it's time to address what needs to be done when all the workers have left and your beautiful kitchen design is complete.
Step One: Pour a glass of wine and celebrate!
Yee haw! First and foremost, it's time to pour a celebratory drink and celebrate, preferably with some good friends and family. There's no better time to have company over than when the remodel is fresh – and the kitchen spaces are still free and clear from the evidence of daily life.
Step Two: Register all those warranties
When you did the final walk-thru with the kitchen design/build team, odds are they left you with a drawer (or countertop) full of paperwork pertaining to your fixtures, appliances, and features. While some of it is purely instructional, there are important warranty registration forms that need to be completed and submitted in a timely manner. If you put this off much longer, it may never get done.
Ideally, you'll never have to activate a warranty. However, if you do, being registered as per the manufacturer's instructions exponentially simplify your process from start to finish. Another bonus of warranty registration is you're the first to know if there are any recall or safety items that need to be addressed, replaced, or repaired.
Step Three: Review the maintenance requirements
We're aware that our homeowners' eyes often glaze over when we review all of the maintenance requirements and recommendations for their kitchen features, and we get it. So, we recommend sitting back on the first weekend morning or so after your kitchen is restored to normal – spending some time reviewing all of the maintenance paperwork. Have questions? Feel free to contact your kitchen remodeling contractor anytime, and they should happily answer them for you, or direct you to experts who can.
The digital world has made this easier than ever – letting you use calendar reminders for things like sealing your natural stone countertops and tiles, oiling or polishing the wood cabinets, and so on. Also, some stone products require non-abrasive, specialty cleaners – while others can be cleaned with just about anything. Take note, because failure to maintain your fixtures and features as advised could compromise your kitchen's overall appearance – not to mention the warranties we discussed above.
Step Four: Protect your hardwood or natural stone floors
Do you have hardwood or natural stone floors? Both are susceptible to scratching – especially in a busy kitchen where chairs and bar stools are scooted in and out on a regular basis. First, we recommend purchasing felt pads and applying them to the bottoms of chairs and your table. If you're a pet owner, keep your pets' nails in check so they don't leave scratches on the surface.
The team here at Kitchens & Baths Unlimited doesn't cut out and run when our clients' kitchens are completed. We're here for the long haul and to make sure you have everything you need to keep your kitchen looking (and functioning) just like new. We look forward to working with you.