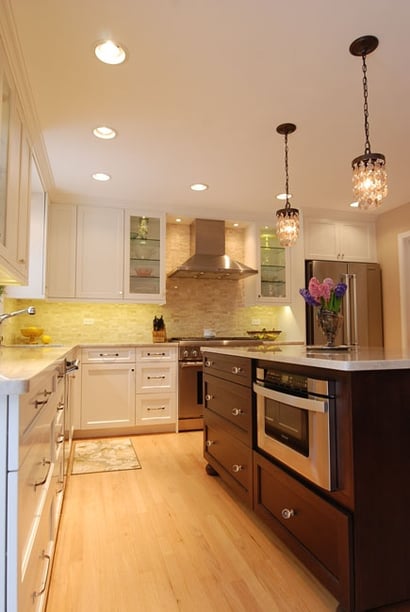 Lighting is such a fundamental part of a room's design, especially the kitchen. Not only does it provide enhanced function and ambiance, the right (or wrong) lighting layout or selections can take a perfectly good kitchen remodel and make it wonderful, or it can leave it feeling like a dark and cave-like space. Fixture selection is also important because stylish lighting elements add that little something extra, an eclectic flair and/or a bold pop of color, that energizes the space.
Chicago Kitchen Remodeling: Make the Lighting Plan a Priority
The following steps will assist you as you design the lighting plan and select lighting fixtures for your Chicago kitchen remodeling project.
Find a professional designer. Do

work with professional designer

when designing a lighting plan. There are several reasons for this. First, they're adept at knowing which areas in the kitchen tend to be overlooked - and will design a plan based on your kitchen's orientation - something typical homeowners don't think about. For example, kitchens with southern and western exposure have different needs than those with northern or eastern exposures. Similarly,

kitchens in an open floor plan

may have different needs than galley kitchens. These subtle, but important, factors are things a professional kitchen design team will take into consideration.


Balance task and ambient lighting. The kitchen is used for food prep and cooking, but today's kitchens are also used for reading the paper in the early morning, homework, hanging out or socializing at a party. For that reason, it's important to balance task and ambient lighting. Task lighting is brighter and more directed. It's often provided via recessed cans, track lighting with bulbs that can be angled to direct light towards specific focal points, pendants over the kitchen island, and so on. One easy way to gain control over task and ambient light is to give every light switch a dimmer option, so you can adjust the light's intensity.


Use a variety of lights. The more

well-rounded your light fixtures are

, the better they will adapt to your needs. Typically, a well-rounded light plan will use recessed cans, maybe just in the corners, depending on the size of your kitchen. You may also have pendants over the island, undercabinet lights that triple up as task, ambient and nightlighting, and perhaps an eye-catching fixture over your breakfast nook table.


Consider energy efficiency. Incandescent lights are hardly used anywhere anymore, unless perhaps in a table lamp or two. These days, most people opt for compact florescents (CFLs) or LED options. We recommend using LEDs whenever possible as they are

the most energy efficient option

, require far fewer bulb changes over the fixture's lifetime and are less toxic for the environment. Also, continued LED innovation means greater selection of light quality.


Be creative. Use an artistic frame of mind when selecting your lights. Your fixtures - particularly pendants and suspended fixtures - are an opportunity to provide a stylish impact. An industrial fixture in a farmhouse kitchen, bold, colorful glass pendants over the island, etc.